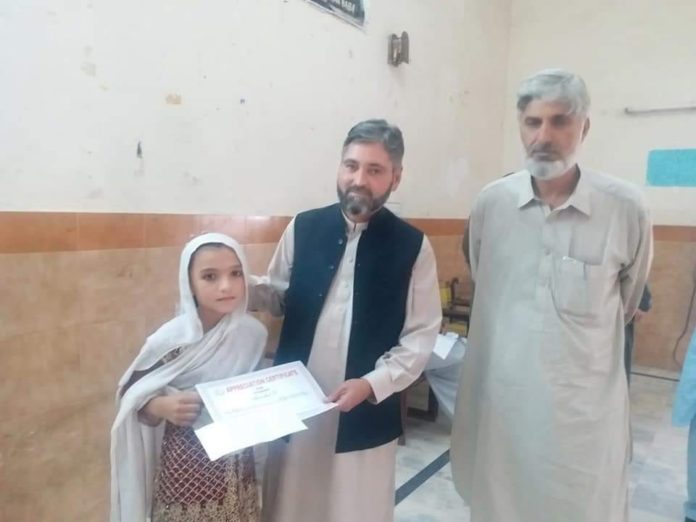 Shamsul-Amin Pirzada
LANDIKOTAL: Education department arranged a colourful prize distribution ceremony in Jamrud tehsil of Khyber district where shining students were given cash prizes and certificates.
A large number of students, teachers, officials and parents participated in the prize distribution ceremony held at the Government Higher secondary school in Jamrud. Director Education for tribal districts Hashim Khan Afridi was the chief guest.
Agency Education Officer jadoon Wazir, assistant Agency Education Officer Khan Azam Afridi and headmasters and principals were also present on the occasion.
125 students, both girls and boys, from various government schools in district Khyber who had topped their respective schools were selected for awards. Several teachers were also given awards and certificates for their outstanding annual performance.
Speaking on the occasion, director education Hashim Khan Afridi praised the teachers' role in disseminating quality of education. He said to honour a student with a small cash prize and certificate would not only encourage other students to excel next year but it could produce intelligent minds.
Afridi said schools in most of the ex-Fata districts had been reconstructed and provided with all their required furniture and stationery. He said work on the most of destroyed and damaged schools was already completed where students were seeking education.
The official urged parents and teachers to work together so that they could enroll all out of school children in the state-owned educational institutions. He praised the Khyber Education department head Jadoon Wazir's role said that in all seven tribal districts and Frontier Regions he found the Khyber education department at the top.
Agency Education Officer Jadoon Khan Wazir said fifty thousand girls and boys participated in the primary schools' exam's current year. He said they regularly arranged sports and cultural activities in schools that played an important role in character building.
Jadoon said they used all their efforts and means in the past years so that they could increase the education ratio in Khyber tribal district. He said during the year 2018 they conducted different kinds of inter-schools various games competitions and gave them cash prizes.
He said they selected 125 students from grade-1 to grade-V for prizes. He said next year they would increase the number of prizes.
At the end of the ceremony director of education, Hashim Khan Afridi and AEO Jadoon handed over cash prizes and certificates among the shining students and teachers.