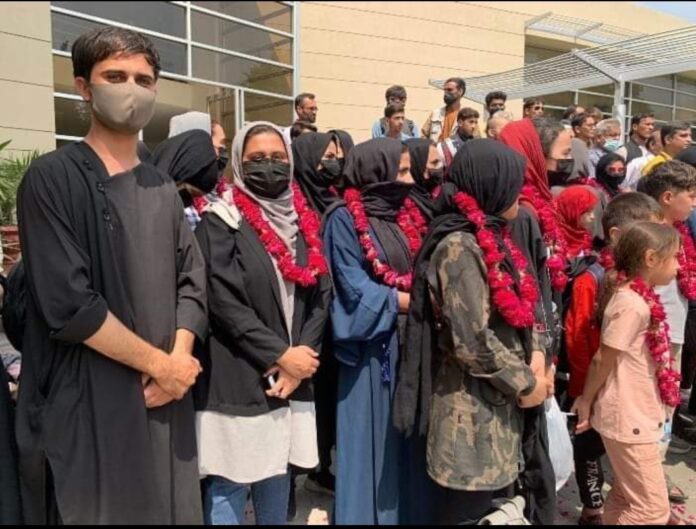 Ashrafuddin Pirzada
PAKISTAN: The female junior Afghan footballers and their families have crossed the Torkham border to reach Qatar via Pakistan where they would stay to participate in the 2022 FIFA World Cup, officials said on Wednesday
The Pakistani authorities at the Torkham border crossing said that the junior female Afghan football team, officials, and their families were issued emergency humanitarian Pakistani visas to evacuate them from their country following the Taliban takeover.
The Afghan junior women footballers said they were facing threats from the Taliban due to their involvement in sports. They had been originally due to travel to Qatar where Afghan refugees have been housed at a facility for the 2022 FIFA World Cup.
Afghan woman footballers said they wanted to leave Afghanistan but were stranded after a bomb blast at the Kabul airport on August 26.
They said Afghanistan national women's team had already flown out of Kabul in the last week of August after an arrangement with the Australian government. They said the junior girl's team was unable to get flights because they lacked passports and other documentation. The Afghan girls' team revealed that they were hiding to evade the Taliban.
The move to bring a total of 115 people including junior 32 Afghan female footballers and their families. The British-based NGO Football for Peace in cooperation with the government and the Pakistan Football Federation of Ashfaq Hussain Shah received the Afghan team at the Torkham border to travel to Pakistan.
A few days ago Taliban have said that female sports would be banned in the country.
Ahmadullah Wasiq, Taliban's deputy head of the cultural commission, said that Afghan women's football along with all other sports activity for women is banned in Afghanistan.
Wasiq said sports, where a woman would be required to expose parts of their face and body, would not be allowed under Islamic rules.
He was talking to media after the Taliban takeover said they would not allow women to play cricket or play the kind of sports where they get exposed.
Former Afghanistan female football team captain and team founder Khalida Popal, whose claims of sexual abuse against disgraced former Afghan Football Federation president Keramuddin Keram led to FIFA banning him, warned many female players had gone into hiding.
Reports said Popal, along with former team coaches Kelly Lindsey and Haley Carter were the driving forces to get the players on evacuation lists.
People described the evacuation as an important victory. She said the women footballers have been brave and strong in a moment of crisis and they hope they will have a better life outside Afghanistan.
Assistant commissioner Landikotal Akbar Itkhar told the media that they received the female footballers and their families members at the Torkham border. He said the team was later transported to Peshawar escorted by police personnel.