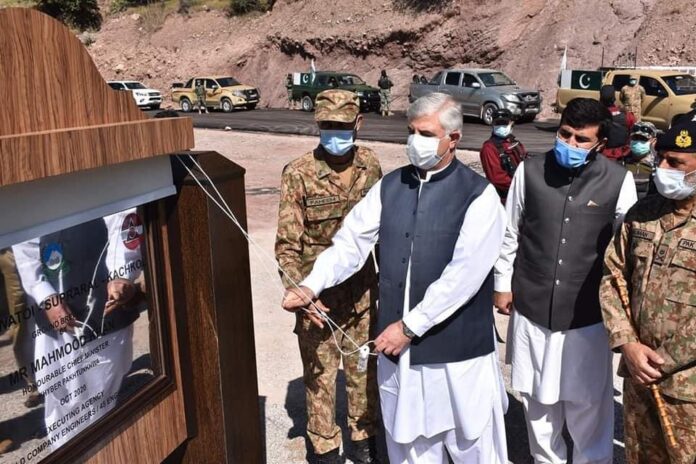 By Correspondent
BARA: Khyber Pakhtunkhwa Chief Minister Mehmood Khan on Friday inaugurated a hostel at Tirah Education Complex and laid the foundation stone of 35-kilometre Dawatoi road in Tirah valley of district khyber.
Flanked by Corps Commander Peshawar, Lieutenant General Nauman Mahmood visited to Khyber district where he inaugurated several schemes.
Addressing on the occasion, Chief Minister said the KP government was totally aware of the problems of tribal people.
He said the merger of the former tribal areas with Khyber Pakhtunkhwa was a historic development.
He said the rapid progress and prosperity of tribal districts were among the topmost priorities of the Pakistan Tehrik e Insaf government adding he was raising voice on every forum for the rights of tribal people.
To address the problems of tribal people, he said tribal Jirga would be called on in each sub-division level besides, he added the former system of tribal Jirga would also be maintained.
The Chief Minister said that local people would be recruited on vacant posts of police and other departments in merged districts.
"I hope that the merger will benefit the people of merged areas soon," he said.
The electricity produced by PEDO will be provided to local industries with a minimal cost of Rs.1 per unit that will further boost industrial activity in the province.
Mehmood Khan announced 1000 tents for those whose houses were damaged or destroyed in the past militancy and said to assess the losses incurred to businesses in the areas in the wake of operations against miscreants, teams would be sent to affected areas.