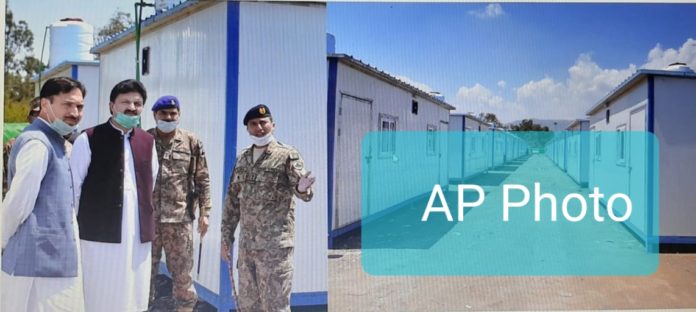 By Ashrafuddin Pirzada
LANDIKOTAL: Top official of district Khyber Mehmood Aslam Wazir on Sunday confirmed that they have conducted Coronavirus tests of 108 truck drivers came from Afghanistan in which the tests of 23 drivers came Coronavirus positive.
Talking to FATAVOICE deputy commissioner of district Khyber Mehmood Aslam Wazir said that in the last three days 713 persons including women and children have returned from Afghanistan via Torkham border crossing. He said 195 were truck drivers amd their helpers.
The official said according to medical rules they conducted coronavirus tests of 108 drivers and their helpers. He said the test resluts of 23 came Coronavirus positive. He said they have quarantined all returnees in Landikotal and Jamrud based quarantine centres.
"Following SoP we are gradually conducting Coronavirus tests of the rest of people came from Afghanistan and closely monitor their health condition" Wazir said. He added that 177 among the quarantined persons were women entered Pakistan via Torkham border.
The official said information secretary Ajmal Wazir today visited different quarantine centres in district Khyber amd checked the facilities provided to inmates. He said Ajmal Wazir was satisfied with the arrangents and health facilities placed at all isolation wards in the district.
Meanwhile, women at Jamrud quarantine centre staged a protest demonstration inside the isolation wards,sources said.
The sources said that 177 women along with their children were quarantined after they entered Pakistan.The spouses of quarantined women were Pakistanis and residing in Peshawar and other cities,sources said.
Assistant commissioner of Jamrud Jawad Ali told FATAVOICE that the womem at Jamrud quarantine centre waited for one month amd now in Pakistan as they want go homes as soon as possible. He said they can not take risk to allow suspected Coronavirus patient to go and infect others in their respective areas.
Jawad said situation was in control at the Jamrud quarantine centre and health staff conducting Coronavirus tests number by number of each person. He said by Monday(today) they would conduct Coronavirus tests of the women so that they could facilitate them to leave the isolation wards.