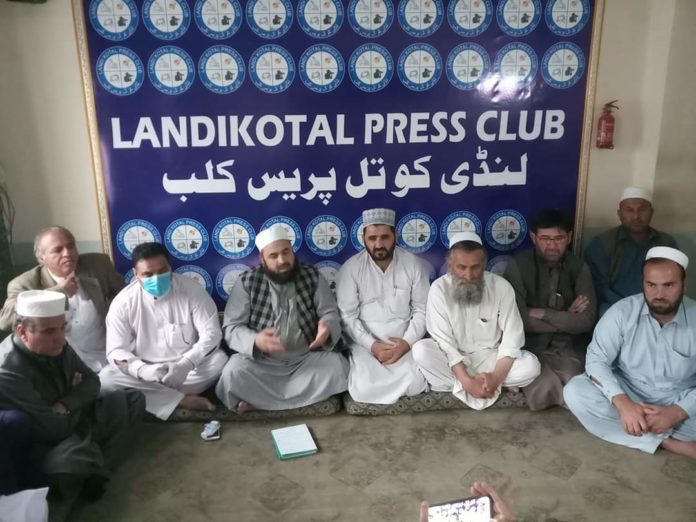 By Ashrafuddin Pirzada
LANDIKOTAL: The Khyber political alliance (KPA) Khyber Siasi Etihad newly chosen office bearers on Monday demanded of the government to fulfill and start mega developmental schemes so that militancy suffered tribal people could find livelihood.
The newly chosen president of KSA Mufti Muhammad Ijaz Shinwari, general secretary Murad Hussain Afridi, senior vice presidents Malak Nadeem Afridi, vice presidents Zakir Afridi and Saida Jan Afridi, joint secretary Raseed Shinwari, Finance secretary Sajid Afridi were jointly spoke to a press conference.
Mufti Muhammad Ijaz Shinwari in the past two years of PRI led government the tribal people were thursting for restoration of better life. He said Imran Khan and his party leaders had several times pledged in general elections to launch mega projects in erstwhile Fata areas. He said they did mot see any mass-benefiting scheme by the current goveremt.
"PTI leaders are good to make suger quoted statements and make their supporters what they call them "tigers" happy",said Mufti Ejaz of JUI-F.
Mufti criticized the parliamentarians from district Khyber and said they were taking the credit of the every small Annual Development Program(ADP)projects being initiated by federal and provincial governments in merged districts. He said the tribal parliamentarians did nothing for the welfare of the common men but to accuse and level allegations on opposition leaders.
The political alliance leaders demanded of the government to carry out development schemes at community level in district Khyber beyond political gains and discrimination.
Shah Hussain Shinwari of ANP said besides the other aspects of life the coronavirus outbreak throughout world severely suffered studies of students. He said online education and classes had been launched in Pakistan but it was a bad luck of the merged districts students that the mobile cellular internet(3G/4G) had been suspended three years in erstwhile Fata.
Shinwari said the students of merged districts had no access to online classes due to unavailability of internet service.He said Imran Khan amd other take mercy on the students and protect their future by resuming access to internet.
He said if the mobile internet was not restored the future of thousands of tribal students seems to be dark.
"It was discrimination with the merged districts people are yet not given their basic and constitutional rights"Shinwari complained.