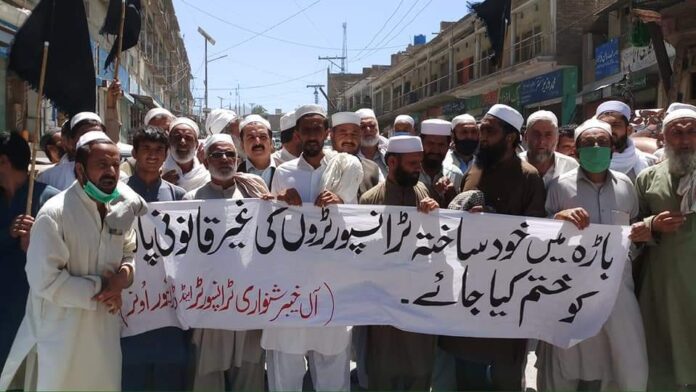 By Ashrafuddin Pirzada
KHYBER: Truckers and transport unions leaders jointly staged a protest demonstration in Landikotal bazaar against the illegal money being taking from trucks in Bara and Jamrud tehsils in district Khyber.
A large number of transpoters and truck drivers gathered outside Landikotal press club and chanted slogans against district police officer who,according to the protesters, is behind the illegal money being taken from loaded trucks in Bara and Jamrud.
They were holding black flags and banners inscribed with slogans against the illegal money taking from trucks at various checkpoints in Bara and Jamrud subdivisions.
Speaking on the occasion, Rahman Zeb Afridi,Malik Abdullah Khan and others said that fake unions have been established and DPO Khyber was behind it. They said that their loaded trucks were forcefully park in Bara where police and fake transport union workers collect money from each truck.
Abdullah Khan said it was an illegal act to collect money from trucks as prime minister Imran Khan has directed his government to take action against those who take money from trucks run on Karachi to Torkham highway. He said police officials and some influentials have shares in the illegal money collected which would not be tolerated.
Rahman Zeb said police at Takhtabaig checkpost in Jamrud also taking money from trucks.He appealed from Inspector General of Khyber Pakhtunkhwa Police,Prime Minister Imran Khan and other officials concerns to take notice of illegal money taking from trucks at various checkposts in Khyber districts.
Transporters threatened that if the ilegal
were not resolved in 72 hours they would block Peshawar-Torkham highway for all kinds of movement.