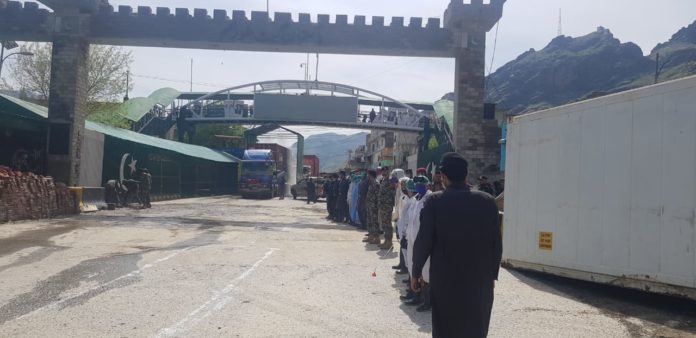 Ashrafuddin Pirzada
LANDIKOTAL: Business communities from Pakistan and Afghanustab welcomed the Pakistan's decision to keep open its borders crossings with Afghanistan for 6 days a week to facilitate cross-border trade activities which has been affected due to the COVID-19 pandemic in both countries.
Talking to The News on Sunday, Pakistani and Afghan traders welcomed the decision and hoped that it would enhance trade activities between the two countries.
Ahmad Shah Yarzada, an Afghan importer and member of the Pakistan Afghanistan Joint Chamber of Commerce and Industry, said traders and businessmen in both countries have been demanding opening of the crossing points as their closure had badly affected trade activities.
He said the step taken by Pakistan to open the border would help increase trade relations between the two countries.
"In order to avoid the spread of COVID-19, all the necessary steps were taken by the Afghan side as per the mechanism prepared by Commerce Ministry of Afghanistan and shared with government of Pakistan," Yarzada added.
Traders in district Khyber and Khyber Pakhtunkhwa also hailed the decision and said it would help ensure speedy clearance of gods carrying containers besides removal of hurdles to bilateral trade and transit trade between Pakistan and Afghanistan.
Ziaul Haq Sarhadi, president of the Frontier Customs Agents Association of Khyber Pakhtunkhwa, said the opening of Torkham border for 6 days a week for 24 hours a day would remove obstacles in the way of Pak-Afghan trade and transit trade. He said it would give further boost to mutual trade volume between the two neighboring countries.
Sarhadi said Pakistan and landlocked Afghanistan had signed a transit trade agreement in 1965 that was revised in 2010. He said Afghans traders have also been allowed to import goods via the Gwadar port in southwest Balochistan province besides using ports in Karachi.
" The similar directives were also issued for the Chaman border where to resume the similar trade activities"Ziaul Haq said.He said a notification was issued on Saturdays would be reserved for pedestrian move only and the SOPs as applicable for air passengers would be implemented for pedestrians as well.
However, he also urged government to allow imports from Afghanistan.He said import from Afghanistan Afghanistan would be beneficial to enhance mutual trade relations.
"Fresh fruits, including dates, pomegranates, apples and grapes, should be allowed to come to Pakistan."Sarhadi maintained.He said more than 8,000 Afghan transit trade vehicles were waiting for clearance at the border with Afghanistan.
Federation of Pakistan Chamber of Commerce and Industry (FPCCI) Afghanistan and Central Asian Trade Committee Convener Shahid Khan Shinwari thanked the members of Afghan business delegations as well as the officials of the Afghanistan border force who met with their Pakistani counterparts at Torkham border and discussed ways and means to ensure the enhancement of bilateral trade between the two neighbouring countries.
Shinwari said that the Afghan government had requested Pakistan's government to reopen the Torkham border and timely clearance of stranded trucks on both sides of the border. He said to facilitate traders and businessmen at the border were agreed by both sides.
He said that Khyber Pakhtunkhwa Chief Minister Mahmood Khan has extended all-out support to the traders of both countries as this decision would speed up the vehicle clearance processes at the border with Afghanistan.
He also thanked Jawad Hussain Kazmi and Col(R) Siddique of Khyber Chamber of Commerce Group for his hectic efforts in the reopening of Torkkham and Chaman border.
Shinwari said ease of the border particularly helped the smooth flow of visitors from and to Afghanistan. It was a joint effort which would boost trade between Pakistan and Afghanistan,he expressed.
Shahid said that the closure of the Pak-Afghan border had disrupted the country remaining trade with Afghanistan. He welcomed the opening of border for exports and urged the government to allow import from Kabul.
A senior official at Torkham border told this scribe that the National Command and Operation Center, a high level body leading the country's fight against the COVID-19, took the decision of opening the Torkham and Chaman crossings with Afghanistan in Khyber Pakhtunkhwa and Balochistan provinces.
Confirming the development the official said Torkham border would remain open for 24 hours a day and 6 days a week (except Saturday) for cross-border trade activities. He said unlimited number of trucks loaded with transit and other private goods would be allowed per day to cross the borders.
He said proper standard operating procedures (SOPs) and guidelines for both the bilateral trade activities and Afghan transit trade were placed at top conditions to allow pedastrian and vehicles movement across the border.
Pakistan had closed its borders with Afghanistan but announced in April to reopen the two border crossing points thrice a week to facilitate cargo trucks and containers to enter Afghanistan. However, Afghan traders say that thousands of their containers of transit goods are stucked at the Karachi port caused them unaffordable financial losses.