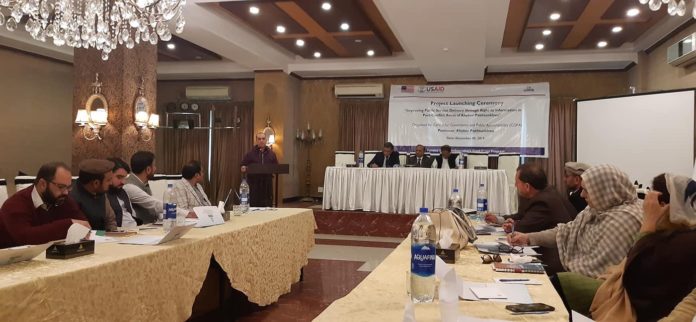 Ashrafuddin Pirzada
PESHAWAR: The Centre of Governance and Public Accountability(CGPA)on Thrusday arranged a day-long seminar on Right to Information(RTI)for journalists and civil society members based in 14 merged districts in Khyber Pakhunkhwa.
The seminar held in a local hotel in Peshawar which was attended by more than fifty journamists,civil society member and women from None governmental organizations.
Speakers including Zahid Abdullah,Khyber Pakhunkhwa information commissioner Riaz Khan Daudzai and Muhammad Azam highlighted the importance of RTI.
Zahid Abdullah stressed upon the proper and purposeful use of the lawful right that would discourage corruption and would ensure quality of service.
Muhammad Azam said that after the 25th amendment residents of 14 districts could use RTI as tool to root out leakages and irrigularities in public funds.
He said they will soon train 50 persons including 25 journalists from merged districts to raise awareness about the use of RTI amd its benefits.
He said record in the public offices was the asset of every citizen while public servants were it custodian.Adding that a citizen has the right to access to the record he or she want to use in the public interest.
Daud said the country had been looting since 1990s.
He said KP RTI was declared one of the best law ever made in the country.
He said political and law systems kept deprived and rigged Pakistanis in the past. He said the current government had made tall claims but yet not none of it could come true.
He said only six percent women have used RTI in KP.
Riaz Khan said the aim of the RTI was to restore human dignity,ensure service deliver and curb corruption. He added that transperency was the first important step ensure good governance. He said Waziristan was at top wherefrom they received multiple RTI cases on flaws in service delivery and corruption in publuc funds.
"Whenever pro-active disclosure is not in placed we can not establish good governence",Riaz maintained. He said the prime objective of RTI is to give authentic information and reliable dats to the complainer. He said they woild soon go to all tribal merged districts to raise awareness about RTI.
The KP commissioner said the commissions were constituted to strike balance between the RTI applicant and public office.He said since 2013 citizens have lodged 15190 RTIs in which around 80,80 received answered from the punlic servants and public office in Khyber Pakhumkhwa.
Riaz said his commission had imposed 20 cash fines on various public office including four on press clubs after they failed to provide information to the applicant through RTI.
"Four press clubs in KP includind Peshawar press club was fined twice Rs25000 each time and the amount was deposited in the government treasury.
Advocate Fawad Malik urged to participants to use RTI maximum so that to fight against corruption and bring transperency in the public funds.