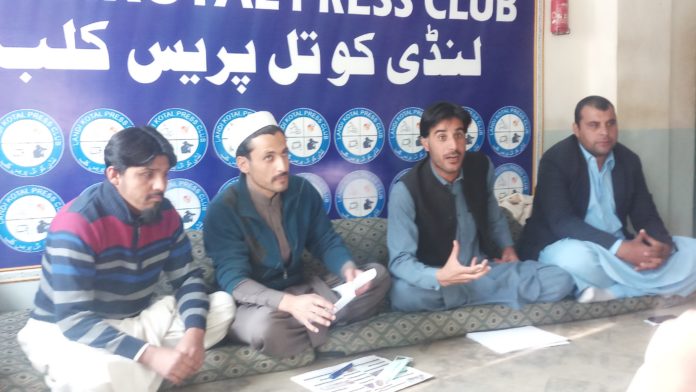 By Ashrafuddin Pirzada
LANDIKOTAL: Political party leaders and social activists have termed Fata merger a historical step however, they said Pakistan Tehreek-e-Insaaf led government failed to deliver so that the grievances in the merged tribal districts could be addressed.
This was said by political leaders and political activists in a "meet the press" program held at Landikotal press club on Thursday.
Khyber Welfare Home president and political activist Aamir Afridi said that though Fata merger was a long awaited demand of the tribal people. He said Pakistan Muslim League(N) led ex-government took a historical step and merged tribal districts in Khyber Pakhtunkhwa province. He said he was the part of the delegation met with the former army chief and inspector general Salahuddin who pledged the to recruit thirty thousand tribal youth in police and other paramilitary troops after Fata merger . He said Frontier Crimes Regulations(FCR) had been announced null and void in erstwhile Fata districts but tribals were still treated under the same draconian laws of FCR.
Aamir said corruption in tribal districts was the major issue while health and education department need to be reformed so that they could deliver in the best interest of the tribal people.
Pakistan people's party leader Shah Rehman said that PTI led government failed to deliver and address their genuine problems. "PTI government is the unannounced martial law government in the country and openly swallowing menrals and other resources in the tribal districts",said Shah Rehman. He welcomed Fata merger but said that PTI government failed to achieve their set goals to make citizen's life better in the country.
He said until and unless peace in Afghanistan was not restored they would not enjoy peace in Pakistan. Adding that he predicts that situation in tribal areas would again go worsen in the coming months as the United States has announced that they would not withdrawing their troops from Afghanistan.
"Constitution of Pakistan had been freezes three times so far by dictators that severely suffered to strengthen democratic values in the country", said the PPP leader.
Pakistan Muslim League(N) Landikotal president Israr Shinwari said that they could not see difference after Fata was mergered with the Khyber Pakhtunkhwa government . He said they had no electricity when they had FCR in Fata and still they face 22 hours load shedding that irked their life.
Pakistan Tehreek-e-Insaaf Landikotal leader Shahid Khan demanded merger committee to pinpoint and prioritize the most urgent problems in the tribal districts. He said judicials complexes in the tribal districts so that people would have their smooth access at their door steps. He also demanded that all walks of life especially journalists and political workers should be inducted in the monitoring committee to ensure best possible service delivery.