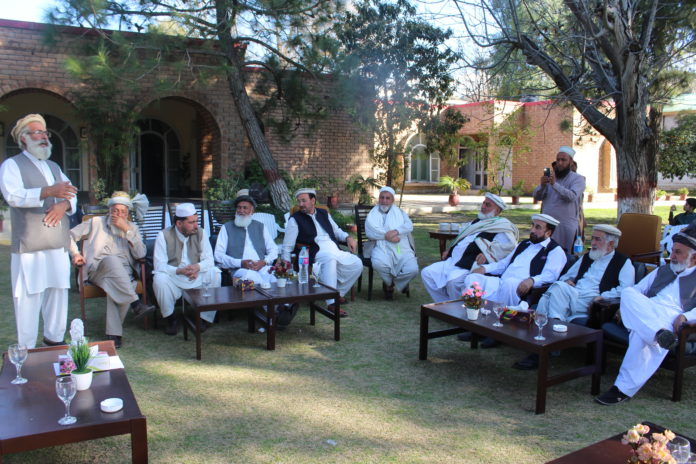 Nasib Shah Shinwari
LANDIKOTAL: The chief of army staff (COAS), Gen.Qamar Javed Bajwa has said to the elders of Khyber Agency in Landikotal army garrison on Friday that Pakistan wants friendly and enduring relations with Afghanistan.
Talking local journalists the tribal elder Malak Darya Khan Afridi, Malak Waris Khan Afridi, former senator Muhammad Shah Afridi and Malak Nadeem Afridi said that various matters were come under discussion with the COAS pertaining to terrorism, peace, the unemployment in Fata and Fata reforms.
Noted top security officials including the political agent of Khyber Agency Khalid Mehmood and the assistant political agents of Landikotal, Jamrud and Bara subdivisions were also present during the COAS visit to Landikotal.
Malak Darya Khan Afridi said that army chief clearly stated that Pakistan want friendly relations with Afghanistan.
He said quoting the army chief of Paksitan that peace in Afghanistan guarantee peace in Pakistan regions.
The elders said, the army chief stated that they want to take the people of Fata into confidence before to bring reforms and to change the future of Fata regions.
Malak Nadeem Afridi said the army chief praised that the people of Fata offered sacrifices during Russian aggression on Afghanistan and during war against terrorism which would be always remembered.
The army of Pakistan want to bring peace to the whole country including Fata regions. The elders said.
Nadeem Afridi said the army chief stated that in recent past he has called on the president of Afghanistan 'Ashraf Ghani' and the ambassador of Afghanistan in Pakistan 'Omar Zakhilwal' and discussed various aspect of Pak-Afghan relations.
Soon a grand Jirga of Afghanistan elders, political party leaders would jointly meet in Afghanistan with elders and political party leaders from Pakistan and Fata at a grand Jirga in Afghanistan. The elders said quoting the COAS statement.
Quoting the COAS the elder said that delegations and participants of the grand Jirga would discussed how to eliminate terrorism from the region to bring peace in both countries.
The tribal elders said that army chief announced that Rs.1.50 billion would be spent on various developmental projects in Fata regions to make fata people more prosperous and developed.
The chief of Pakistan army said that fencing on Pak-Afghan border was only aimed to stop the entry of terrorists and drug peddlers to maintain peace in the regions. The tribal elders said.
Earlier the former federal minister Malak Waris Khan Afridi presented 'Welcome addres' to the COAS and other security and civil officers.
Malak Waris Khan Afridi during the welcome address said that the amount of Rs. 0.4 million which was announced for the destroyed houses owners in Bara was less.
He demanded the amount to reconstruct the destroyed houses should be increased.