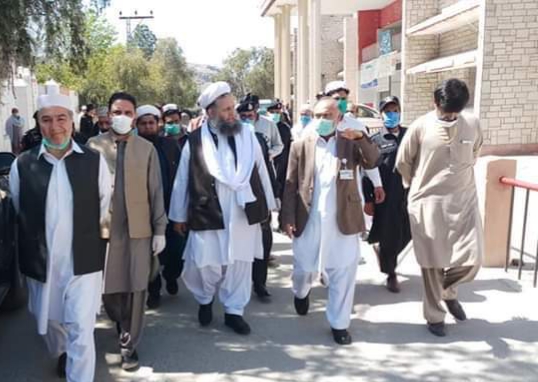 By Ashrafuddin Pirzada
LANDIKOTAL: Federal minister Dr Noorul Haq Qadri along with civil and military officials visited several quarantine centres in Landikotal where they checked isolation wards and other arrangents set for Coronavirus patients,officials said on Saturday.
Federal Minister for Religious Affairs and Interfaith Harmony Dr Noorul Haq Qadri was accompanied by Colonel Waqar Saddiq,assistant commissioner Muhammad Imran,PTI leader Muhammad Ameer Khan and Zakat committee chairman Ihsanullah Junaidi.They visited district headquarters hospital in Landikotal and government post graduate college where they checked isolation wards established for Coronavirus patients.
District Headquarters Hospital Landikotal Medical Suprintendent Dr Nekdad Khan Afridi briefed the minister and army officials about the arrangements placed for possible Coronavirus outbreak in Landokotal.
Dr Nekdad Khan told the minister that they have established a ward of 130 beds at post graduate college and 20 bed isolation ward established in DHQ hospital where to quarantine each patient in a separately in isolatiom rooms.
He said 20 doctors and other health staff had already deployed in the isolation wards to provide best possible medical care to the Coronavirus patients.
Federal minister appreciated health staff and showed satisfication over the arrangements set up for the protection of citizens' life.
Later talking to journalists Dr Noorul Haq Qadri said that Coronavirus was being spread very fastely and took thousands of lives around the world. He said Pakistan army,media,civil administration and citizens were on the same page to fight their common enemy. He said everyone was playing their due role and would win the war against Coronavirus.
The minister said they have provided Coronavirus related kits to hospitals and other health facilities to meet any challenge being erupted by Corona pandemic. He urged residents to identify suspected Coronavirus patients so that they could get timely medical assistance.
Dr Noorul Haq Qadri appealed the citizens to cooperate with the government in such critical phase of Coronavirus pendamic and help reduce human casualities.He said everyone should confine themselves at home for maximim time and follow the advised health experts steps.
Meanwhile, federal minister Dr Noorul Haq Qadri also met with the family members of Arshad Khan who was found dead in mountains in Ali Masjid locality in Jamrud. He offered Duwa for the departed soul and condoled his tragic death.Dr Noorul Haq Qadri gave Rs0.1 million to the bereaved family.