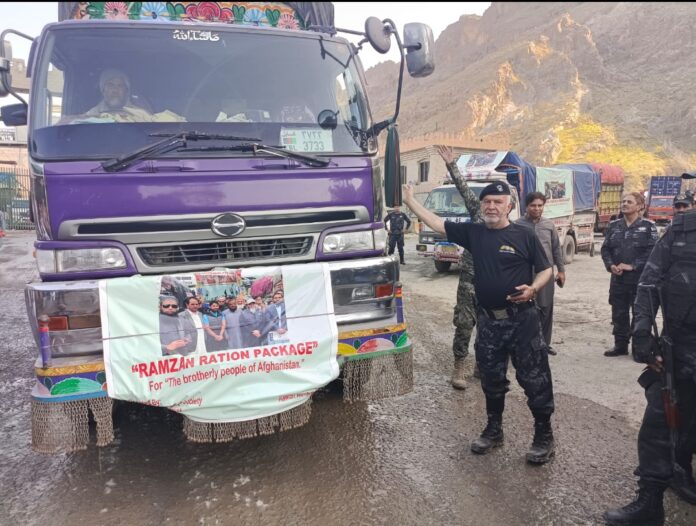 By Ashrafuddin Pirzada
LANDIKOTAL: Pak-Afghan Cooperation Forum and Custom Health Care Society on Thursday sent humanitarian aid to Afghanistan.
A ceremony was organized at Zero point at the Torkham border which was attended by a number of Pakistan and border authorities officials.
Federal tax ombudsman Asif Mehmood Jah was the chief guest who formally handed over the aid to Afghan authorities and the Pakistani consul general in Afghanistan.
Speaking on the occasion Asif Jah said that Afghan citizens were facing severe death from food items. He said the shortage of milk was a big issue in Afghanistan where thousands of children were without milk. He said that seven trucks of different food items were to Afghanistan, consisting of daily commodities and other food items.
Asif Mehmood Jah said in the past six months they sent 34 trucks to Afghanistan. He added that the Alkhidmat Foundation had donated 19 trucks of food items to Afghanistan. He said in the past six months Alkhidmat had sent 126 trucks of assistance to Afghanistan.
Alkhidmat foundation officer advocate Bahrullah said that America destroyed Afghanistan in the past decade-long war and now froze 9 billion dollars after the Taliban take over Afghanistan.
Pakistani counselor General in Afghanistan Abdullah was also present on the occasion.