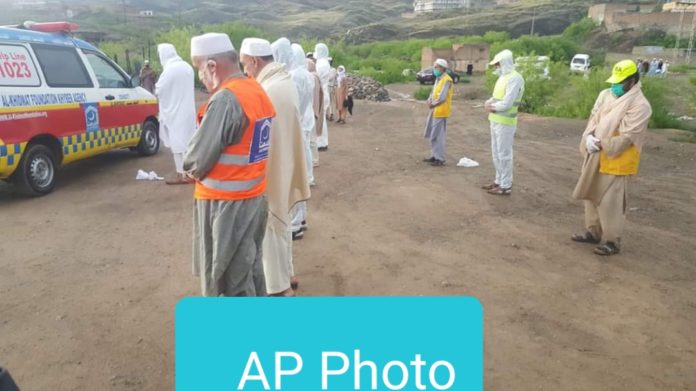 By Ashrafuddin Pirzada
LANDIKOTAL: The photo of a fake funeral prayer viraled on social media sparked debates in which an empty Al-khidmat ambulance in Landikotal was shown parked and funeral prayer was offered on Wednesday.
Jamat-e-Islami district Khyber general secretary Murad Hussain told FATA VOICE that one Dur Gul Shinwari had died of kidney failure the other day while his funeral prayer was offered at his village which was attended by a large number of people.
He said videos and photos of the deceased were also on social media. He said later another photo of an empty Al-khidmat foundation ambulance surfaced on social media where few persons offered mock funeral prayer of Dur Gul Shinwari.
He lamented such act and said that officials mostly do such fake activities to keep their selves-in in media. He said they would file a case against assistant commissioner Landikotal for defaming al-khidmat foundation while using its ambulance in the fake funeral drama
The JI leader hinted that some police officials could also be behind the flop drama played to show the world that they had lost many lives to COVID-19. He said they talked with the al-khidmat ambulance driver who also told them that police taken him along with his ambulance and forced him and few other persons there to stand for a picture to take pretending to be in funeral prayer.
Qari Saeed Hakim Shinwari, who attended the Dur Gul Shinwari funeral prayer at his village, told this scribe that they offered funeral prayer of Dur Gul Shinwari which held in his village in Landikotal. He said the photo of the ambulance with no coffin in it is taken somewhere else in Landikotal was bogus prayer exercise.
Residents and JI leaders accused that a fake funeral prayer at the front of Al-khidmat ambulance that has been conducted in Landikotal was an unpleasant event as they did not want to earn bad name for their party and its organization.
When contacted assistant commissioner of Landikotal Muhammad Imran Yusufzai he rejected the allegations and said that they were not behind the fake picture news. "Those who uploaded the picture are behind it", said Imran. He added that Tehsil Mucipal Officers or local police could possibly behind it. He said one Aimal Shinwari was also arrested who resisted that Dur Gul Shinwari was not died of coronavirus.
The official said his Stenographer Naveed Shalmani also infected by coronavirus and admitted in the hospital.
It may be mentioned here that Dur Gul Shinwari was in quarantine centre in Landikotal for the last one week and died the other day. According to official Gur Gul died of coronavirus while his relatives and other residents consistently saying that he died of kidney failure.