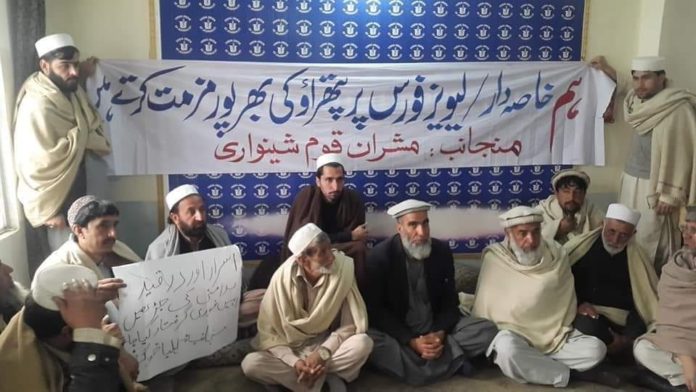 Shamsul-Amin Pirzada
LANDIKOTAL: Shinwari elders on Monday have condemned the brutal act of an angry mob of pelting stones on Khasadar Force personnel during a protest against power cuts in Landikotal.
Talking to a press conference held in Landikotal Press club, elders of Shinwari tribe, Malak Masal Khan, Malak Khitab Gul alias Boda, Haji Baraat Shah and (R) Subidar Malak Khanadar said that Khasadar and levies personnel have rendered life sacrifices to restored long-lasting peace in the tribal belt. They said they would not hail any violent protest that would lead to unrest in the area.
Regarding aerial firing by the Khasadar and levies personnel, They said that they had opened aerial for their defense but they would not support this act which creates fear in the masses.
They said Naujawanan-e-Khugakhel has brought children and started violence during the protest. They also strongly condemn slogans against security forces. They added that they would not let any anti-state elements which were trying during the protest to sabotage the peace of Landikotal.
The elders stressed the residents not to provide any chance to those miscreants who want violence and unrest in the area.
It is to be mention here that Khassadar and Levies personnel had fired shots into the air to control the protesters who had blocked Pak-Afghan highway in protest against power outages in Landikotal on Sunday.