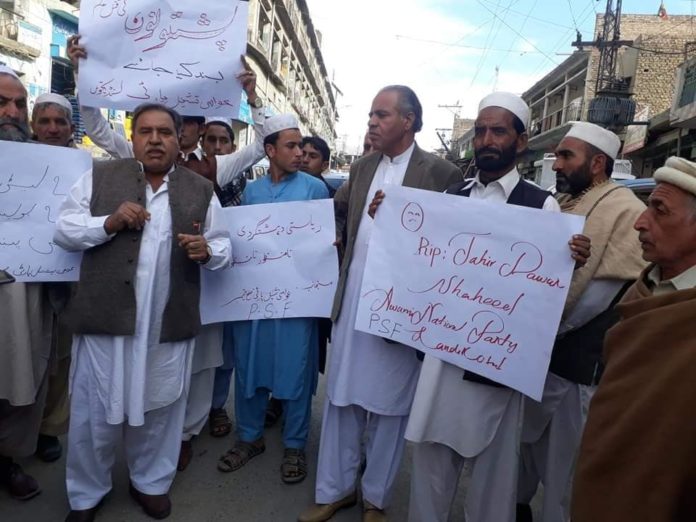 Shamsul-Amin Pirzada
LANDIKOTAL: A score of Awami National Party(ANP) senior activists and Pakhtoon Students Federation(PSF) workers of the Khyber chapter Saturday staged a protest demonstration against the shocking killing of Police Officer SP Mohammad Tahir Khan Dawar at the front of Landikotal Press Club.
The protesters were holding placards gathered at the front of Landikotal Press Club and chanted the slogans ' Stop Killing Pashtoons' and 'We strongly condemn the murder of Tahir Dawar'.
Manzoor Afridi, Saida Jan Afridi, Umar Afridi Sher Afzal Afridi, Shah Fahad Shinwari Janzib Shinwari, Raees, Pakhtoonyaar Shinwari, Shahid and Subhaan, the activists of ANP and PSF Khyber took part in the protest.
Addressing the occasion Manzoor Afridi and other speakers said the government of Pakistan should provide protection to its Pashtoon citizens like the other citizens of the state.
Demanding justice for the Dawar family, the protesters said the current government should be serious regarding its citizen's rights and it must probe into the case so that the involved culprits could be dealt with iron hands.