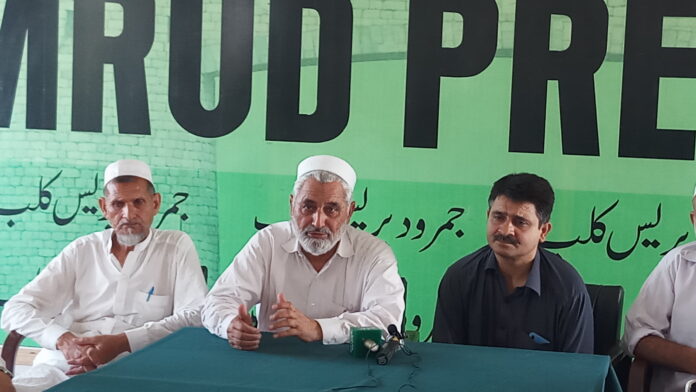 Ashrafuddin Pirzada
JAMRUD: Elders and lawyers from merged districts on Wednesday demanded an inquiry from the chief minister of Khyber Pakhtunkhwa regarding corruption and irregularities in the appointment of 441 non-tribals in health department merged districts.
Flanked by a number of elders, lawyers and tribal Maliks, Fata Qaumi Jirga Chairman Malik Bismillah Afridi, advocate Muhammad Qubais Shinwari, Malik Yar Muhammad and others told a press conference in Jamrud press club that they in strong possible words condemned the appointment of non-Fata residents in the health department.
They said the government of Khyber Pakhtunkhwa did not fulfill its promises rather they snatched basic rights from the ex-Fata residents.
Malik Bismillah Afridi said chief minister Khyber Pakhtunkhwa Mehmood Khan appointed 481 persons from other districts, especially from his own constituency in merged districts. He said the Fata people had rejected the Fata merger at the start and still did not compromise on their words. He said the chief minister and his team were not sincere with the 12 million tribals. He said the Mehmood Khan-led government became the hub of corruption.
"They can not tolerate the illegal and unlawful appointment of health employees in the merged districts", Bismillah Afridi said. He added that the Fata merger changed nothing but further deprived the poor tribals of their basic rights.
Malik Bismillah Afridi said they would continue their peaceful protests against the so-called Fata merger which was their legal and constitutional right.
The elders said they were not ready to accept the 25th amendment in the constitution of Pakistan and demanded the supreme court declare it null and void. They said the honourable court should comprise the larger bench so that they could decide the Fata case.
"Fata was merged in haste in which they did not bother to take tribals, people, onboard which is a big historical mistake", Bismillah said.
Advocate Muhammad Qubais Shinwari said in a broad daylight Mehmood Khan snatched 481 jobs from tribals people and appointed his own voters. He said due to his poor administration's anti-tribal policy they could be compelled to knock on the court door.
Qubais said more than five hundred seats were announced for merged districts in the health department but Khyber Pakhtunkhwa chief minister Mehmood Khan appointed Swat and Shangla domicile holders in erstwhile Fata. He said Pakistan Tehreek-e-Insaf Chairman Imran Khan must take notice of the chief minister's irregularities and corruption as Mehmood Khan could damage the party's credibility.
He said the border with Afghanistan was restricted due to which thousands of tribals lost their jobs and business. He said all the legal fraternity would cooperate with the tribal people as they decided to file a case in the court against all illegalities of chief minister Mehmood Khan.