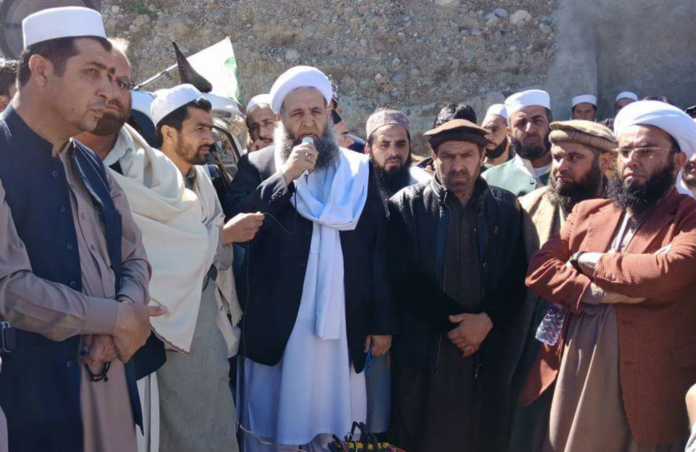 Shamsul-Amin Pirzada
TORKHAM: The officials of National logistics Cell(NLC), Frontier Corpse(FC) in Torkham should resolve issues in Torkham with Custom agents and Khugakhel tribe via negotiations. We will not obey the law of the jungle. The officials should not violate the agreement signed with Khugakhel tribe.
All this was said by PTI leader, Nóorulhaq Qadri during a protest gathering organised by All Torkham clearnce agents association and Khugakhel tribe in favour of their demands in Torkham on Tuesday.
Addressing the gathering, he said Torkham land was the property of Khugakhel tribe and they should be given their legitimate rights. FC and NLC officials should not to cross the limits but to Settle the matter through dialogues instead of threatening locals.
Mr. Nooulhaq assuring the protesters said he must take up the issue with PTI chairman, Imran Khan. he would support Khugakhel regarding this issue for the betterment of the area and Pakistan, Qadri stated.
He said that authorities at Torkham should not make the tribesmen jobless but instead they should create more job opportunities and business for the tribesmen of Landikotal at Torkham.
The protesters appealed to chief of army staff, Qamar Javed Bajwa to take notice of the issue.
It is pertinent to mention here that All Torkham clearance Agents association and Khugakhel tribe jointly staged a peaceful protest against Weboc(Web based one custom) system and the violation of Torkham Terminal acord by NLC. The protest was continued for second day.