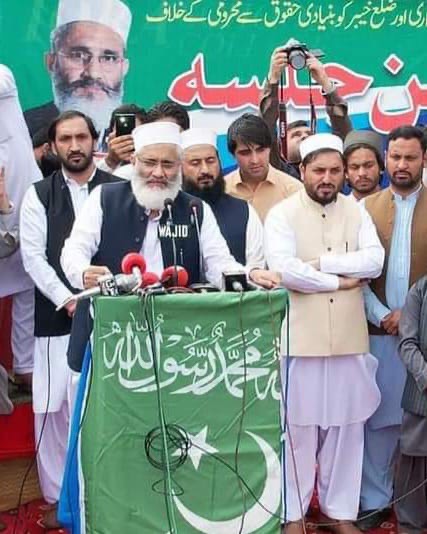 Ashrafuddin Pirzada
KHYBER: Jamaat-e-Islami (JI) Ameer Sirajul Haq on Sunday demanded to conduct nationwide elections across the country under the independent judiciary, election commission and an impartial establishment.
Speaking at a public gathering held in Bara tehsil of district Khyber "themed Khyber Peace Gathering (Khyber Amn Jalsa) in Bara Sirajul Haq said that the Pakistan Democratic Movement (PDM) and the Pakistan Tehreek-e-Insaf (PTI) governments were responsible for the prevailing economic and inflation crisis in the country.
"The establishment creates conflicts among political parties that caused fighting between different walks of life," Sirajul Haq said, adding that this brutal act could not be tolerated anymore.
The JI chief head maintained that they demanded that the elections be held on the same day across the country but impartial establishment in the country to conduct transparent elections.
"There should be an independent judiciary and an independent election commission," Sirajul Haq urged, If this was not the case, it would be impossible to hold a transparent election.
Siraj-ul-Haq said that there was widespread destruction and despair in the tribal districts but rulers deviated from the promises made at the time of the merger for the development of the tribal areas.
The JI Ameer said the education and health facilities had been destroyed in militancy but not reconstructed so far. He added that poor children are deprived of the basic rights of education and health.
He said if Jamaat-e-Islami gets power at the national level, they would provide free education for all.
The JI ameer maintained that tribal people do not provide justice and the courts should be locked.
He alleged that eighteen personalities of the ruling parties own Rs4,000 billion and swallowed the poor people's rights.
Criticizing Maulana Fazlur Rehman and other PDM leaders, Sirajul Haq said like in the past they must protest against inflation as they did at the time of the Tehreek-e-Insaf-led government.
Siraj-ul-Haq alleged that Tehreek-e-Insaaf was in power in the Khyber Pakhtunkhwa province for the last 9 years but did not improve the life standard of citizens.
He further said KP province had been bankrupted due to unfolded corruption.
He said people should trust the responsible leadership of Jamaat-e-Islami to get the country out of the severe problems.