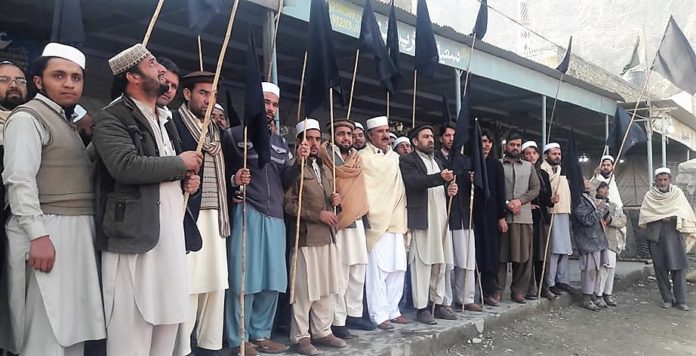 Nasib Shah Shinwari
LANDIKOTAL: The tribesmen of Khuga Khel on Tuesday hold a protest demonstration against the authorities at Pak-Afghan border Torkham saying that the illegal occupation of their land was not acceptable to them.
A large number of local traders, custom clearance agents gathered near the NLC(National Logistic Cell) office in Torkham where custom clearance agents association leaders, political party leaders and tribal elders spoke to the protesters and expressed their concerns over the declining trade opportunities for locals at Torkham.
The protesters holding banners, black flags and placards inscribed with slogans in favor of their demands marched at Torkham bazar and chanted slogans not to snatch property and trade from the locals of Khuga Khel and Landikotal.
Shah Hussain Shinwari, President of Awami national party Khyber Agency and Zakha Khel tribe elder Malak Abdur Razaq Afridi spoke on the occasion and termed the decline of trade at Torkham as injustice with the locals of Landikotal.
They said the locals of Landikotal have already suffered badly and now their trade was badly affected due to strict security measurement at Torkham.
The leaders said if the authorities did not provide alternate business opportunities for the locals then they would be compelled to migrate from the area.
Miraj-uddin Khan Shinwari, the chairman of all custom clearance agents association of Torkham also addressed to the protesters and accused the NLC officials for violating the written agreement which had been made with Khugakhel tribe and custom clearance agents.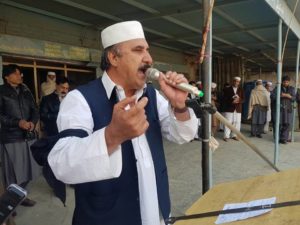 He said the NLC officials were not respecting the written agreement with our tribe and delaying the construction work on the taxi stand violating the accord.
The speakers criticizing the authorities said they should not create hurdles for local traders and demanded the governor of Khyberpakhunkhwa to take immediate notice of the issue.