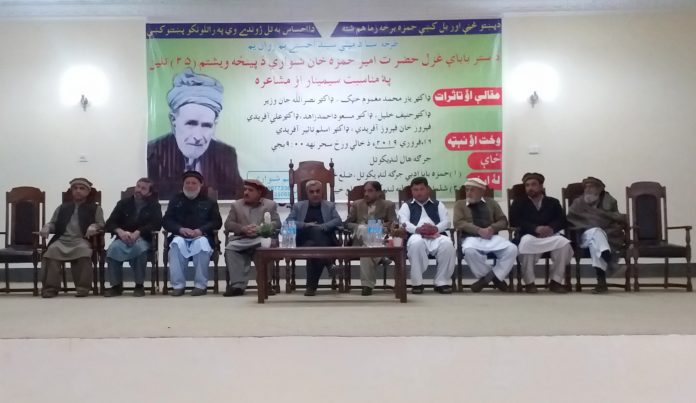 Shamsul-Amin Pirzada
LANDIKOTAL: To pay homage to the great Pashto poet and Baba-e-Ghazal, Amir Hamza Khan Shinwari, poetry enthusiasts gathered in Landikotal on Saturday.
In this regard, Hamza Baba Adabi Jirga Landikotal has organized a seminar at Jirga hall in Landikotal.
A score of scholars, poets, and poetry enthusiasts across from Khyber Pakhtunkhwa participated in the seminar.
Dr, Yar Mohammad Maghmoom Khatak presided over the gathering.
Dr, Haneef Khalil, Dr, Laiq Zada Laiq, Dr, Ali Afridi, Dr, Kaleem Shinwari, Dr, Tawab Shah Masoor, Dr, Aslam Taseer, Landikotal press club president Khalil Afridi and many other delivered their speeches on the occasion.
The speakers put light on the literary life of Hamza Baba and highlighted his influence on Pukhtun society.
The scholars said Hamza had influenced and inspired a large number of poets who came after him as he was the Pashtu poet of the century
Regarding the theme of Hamza's poetry, Dr, Yar Mohammad maintained that Nationalism, Sufism, Romanticism, and Pashtunwali were the common themes in his works.
"It was only Hamza Shinwari who gave Pashto a new life and it was his prime quality that he worked on multiple themes," they maintained.
Regarding Hamza Baba's social contacts, Dr, Maghmoom said that like Khushal Khan Khatak, Hamza Shinwri was not unfortunate as he had made many literary friends.
Mushaira (Poetry recitals) was also held on the occasion which amused the listeners and attracted considerable praise and applause.
Late, Shulman Adabi Jirga's president, Jamal Shilmani and Manzoor Shinwari presented their resolutions in which they demanded the government address the issues in Hamza Baba Complex in Landikotal.