FATA Voice News Agency
TORKHAM: The official of the national directorate of Security(NDS) in Kabul have claimed that they have raided a house where allegedly Da'esh group militants were living.
According to Afghan media report the official of the NDS had arrested the Da'esh fighter after they attacked the military academy on Monday who later disclosed about the locality of a rented house which was using by Da'esh militants.
According to the report the NDS officials also recovered a huge cache of weapons, RPGs, explosives, and suicide jackets from the house.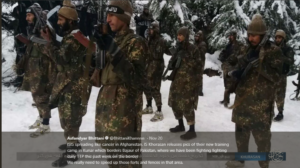 The NDS officials said Afghan media that according to the locals of Qala-e-Wahid in Kabul, the alleged Da'sh insurgents were speaking Farsi language and there were three men and one woman at the rented house.
The locals of the area where Da'sh house was found said security agency of Afghanistan to strictly issue order to the property dealers and owners in the city not to give houses on rent to suspected persons without any proper guarantee and the original identity documents of those persons who want to live at the rented house. Afghan media report added.