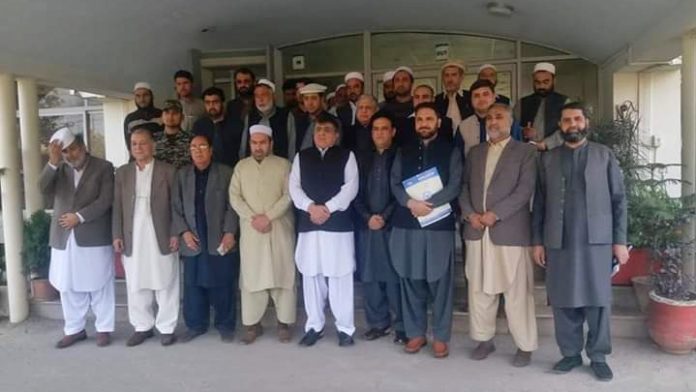 Shamsul-Amin Pirzada
LANDIKOTAL: After several talks with Pakistan customs authorities, the All Torkham customs clearing agents Association has ended its token strike and started cleaning process of export and import goods at Torkham border on Monday.
A grand meeting of the clearing agents association with Pakistan customs officials held in the customs house Peshawar.
The president of All Torkham clearing agents Association,Zarqeeb Shinwari; ex-chairman of Khyber Pakhtunkhwa chamber of commerce, Ziaul Haq Sarhadi; Assistant Commissioner, Muhammad Imran; collector, Saeed Jadoon Wazir; assistant collector Torkham, Sajid Mohmand; tehsildar passport at Torkham, Shakeel Barki, officials of National logistics Cell were present in the meeting.
During the meeting, the customs officials and the association were agreed to resolve the issue of clearing agents at Torkham border.
While confirming the development, Zarqeeb Shinwari said they were assured by the customs high-ups of resolving the issue and facilitating the cleaning agents for smooth process at the border.
Later, Zarqeeb flanked by Aftab Shinwari and Hayat Nazir Shinwari visited Landikotal Press club. He told media that Pakistan customs official accepted their legitimate demands and assure them of providing facilities to clearance agents at Torkham like Kharlachai and Ghulaam Khan borders.
Zarqeeb Shinwari thanked the collector Jadoon and Dr. Noorul Haq qadri for playing role in resolving the issue.
It is pertinent to mention here that hundreds of laden trucks with fruits, vegetables and other food items have been stranded at the both side of Torkham for four days. Most of the Fruits and vegetables in trucks at have decayed and their rest part at stake if the stranded trucks did not clear at Torkham customs on time.