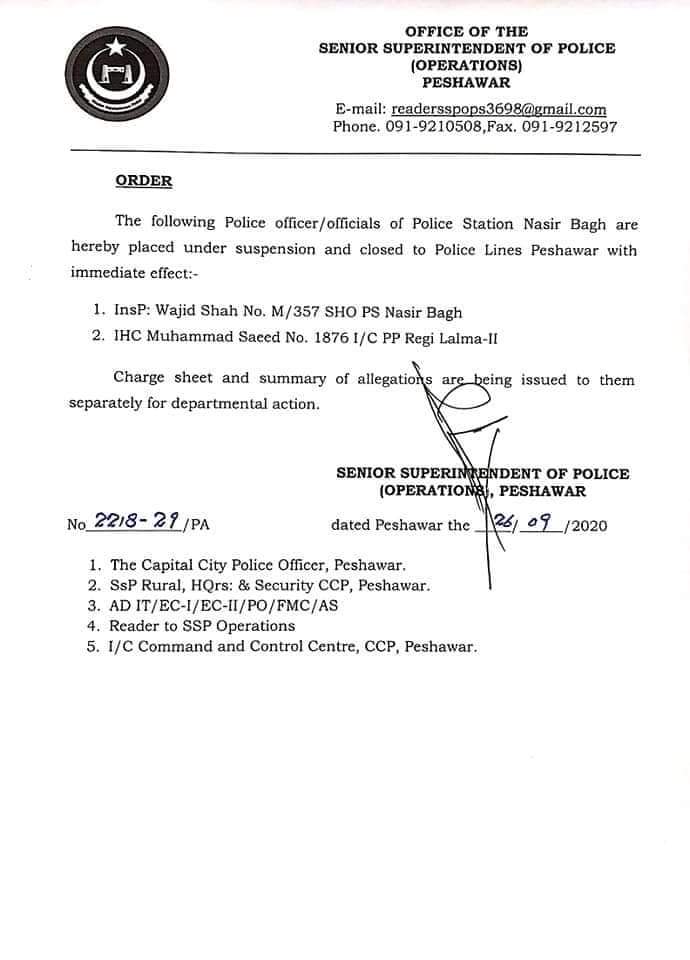 By Ashrafuddin Pirzada
PESHAWAR: CCPO Peshawar took notice of Ghazi Abad Regilalma incident notice and suspended SHO Nasir Bagh Wajid Shah and Regilalma police station-II incharge Muhammad Saeed and closed them to police line Peshawar on Saturday.
A press release here issued from CCPO office said that as per allegations levelled against police constable Saifur Rehman in the FIR the CCPO office immediately suspended SHO Nasir Bagh and Regilalma police station-II incharge, Muhammad Saeed.
Asif Khan accused constable Saifur Rehman he had illegal relations with his sister(S). He said to take up two brothers Gul Wazir and Alif met with Saifur Rehman which led to exchanging harsh and hard words with the police officer that provoked the police and open gun firing on the two brothers. As result, Wazir Gul breathed his last while his brother Alif sustained bullet injuries. He was rushed to hospital. It is said that a policeman was also injured in the incident.
Later, Alif Khan registered FIR and alleged that his sister had immoral relations with police constable Saifur Rehman.
When CCPO Peshawar Gandapur was reported he took quick notice of the incident and suspended Nasir Police Station Head Wajid Shah and Regilalma police station incharge Muhammad Saeed. They were close to the police line.CCPO appointed SSP operation Mansoor, who according to residents and police officials is an honest officer, to probe the matter and report him. SSP investigation Sajjad Hussain was appointed head of the investigation team.