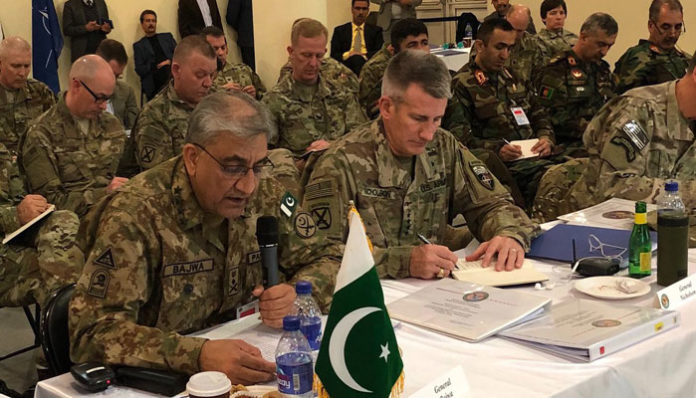 Fata Voice News Agency
KABUL: The Chief of Army Staff, General Qamar Javed Bajwa, said the Inter-Services Public Relations (ISPR) statement, called on the path to regional peace and stability.
Commander USCENTCOM, Commander Resolute Support Mission (RSM) and Army Chiefs of Afghanistan, Kazakhstan, Kyrgyzstan, Tajikistan, Turkmenistan and Uzbekistan also attended the conference, which decided to continue cooperation for peace and stability in the region.
Speaking at the occasion, General Qamar Javed Bajwa reiterated that the path to regional peace and stability passes through Afghanistan.
The COAS said that regions develop as a whole and not as individual countries.
He said that Pakistan has eliminated all terrorist sanctuaries from its soil, however, residual signatures of terrorists who take advantage of the presence of 2.7 million Afghan refugees and the absence of effective border security coordination, are also being traced and targeted through ongoing operation Rada ul Fasaad.
He also assured that Pakistani territory is not allowed to be used against any other country and Pakistan expects the same in reciprocity.
He said that a collaborative approach and persistence are the answer to all challenges, for which Pakistan is ready to play its part.