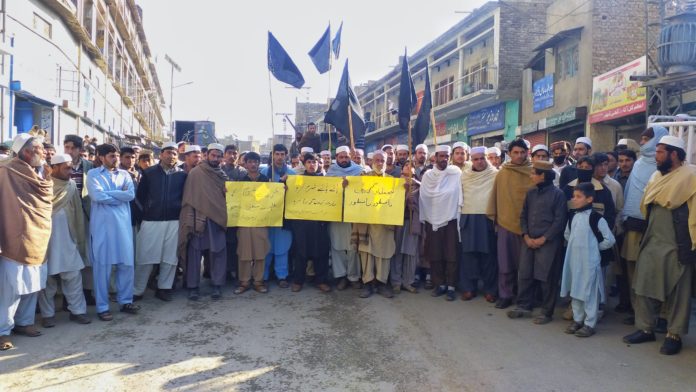 Shamsul-Amin Pirzada
LANDIKOTAL: A score of shopkeepers, bazaar union members and Tanzeem-e-Naujawanan Khugakhel(TNK) Wednesday staged a protest demonstration against tehsil civil administration in Landikotal Bazaar over arrests of innocent shopkeepers.
The protesters were holding banners and placards inscribed with their demands. They marched from Bacha Khan Square in Landikotal Bazaar chanting slogans against local administration and gathered at the front of Press Club.
Speaking to the gathering, the president of TNK, Israr Ahmad Shinwari accused tehsil administration over arresting innocent shopkeepers in the bazaar shop robbery case.
"Tehsildar is not interested to probe into the case. But when we demanded an investigation, Tehsildar arrested innocent shopkeepers including my brother", Israr regretted.
He said the local administration was harassing him as he was a social worker and raising voice for the voiceless people of the area.
The corrupt administration was increasing miseries of shopkeepers in Landikotal bazaar, Israr said. He added that the government must provide protection to the traders and shopkeepers in Landikotal.
Landikotal Bazaar Union president, Lal Rahim was also present among the protesters.
The protesters demanded the forthwith probe into the case and release of sinless shopkeepers.
They threatened of shutter down strike in Landikotal bazaar if their legal demands were not accepted.
It is pertinent to mention here that burglars had stolen 160 mobile phones worth millions of rupees from a shop via breaking the roof of the shop in Landikotal some days ago. Local administration had collared eight suspected shopkeepers and two watchmen in the robbery case.
Meanwhile, dozens of Jamrud residents and elders came out on the road at Bab-e-Khyber and blocked the road for hours long. They were holding black flags. Malik Israr, an elder accused that Tesco officials were selling the Jamrud grid station electricity on a nearby industry. He said the grid station has been recently established to provide few hours electricity only to Jamrud residents. The road was remained blocked for several hours.