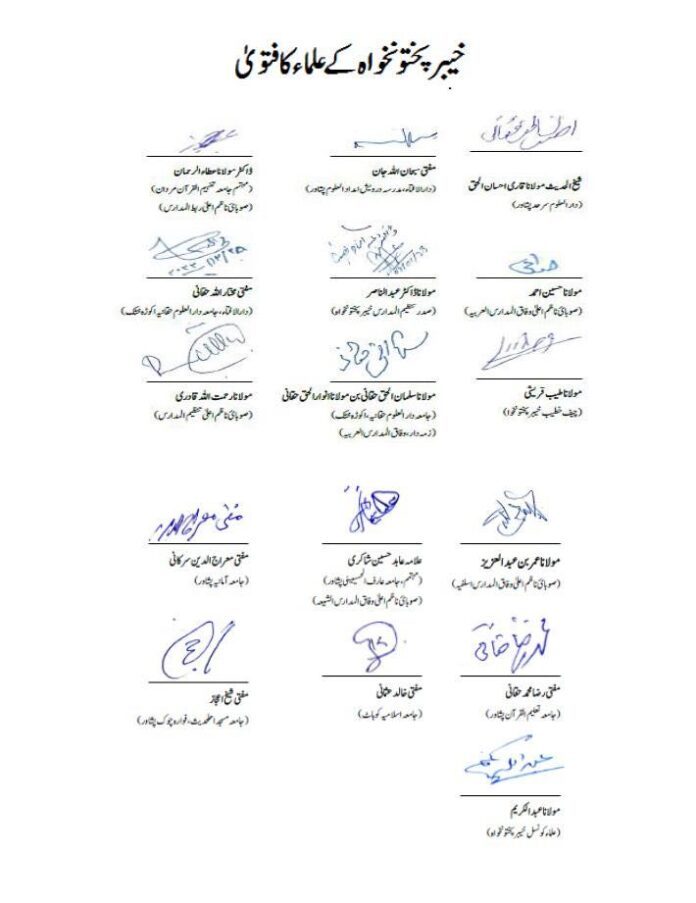 Fazal Amin Shinwari
PESHAWAR: A fatwa (religious decree) was released on Monday by eminent clerics in Pakistan decrying terrorism and terrorist activities in the wake of a substantial increase in militant strikes across the nation.
According to sources, the clerics belong to a number of different seminaries, including Darul Uloom Peshawar, Jamia Darul Uloom Haqqania, and the Organisation of Al Madaris issued fatwas.
The Association of Al-Madaris Al-Arabiya, Rabat Al-Madaris, Association of Al-Madaris Al Safiya, Al-Madaris Al-Shia Association, Jamia Al-Quran Education, and Ulama Council of Khyber Pakhtunkhwa have also condemned terrorism, sources add.
in the troubled Khyber Pakhtunkhwa province issued the fatwa, calling it "haraam" (forbidden) in Islamic law to take up guns against the state's military and police (Islamic law).
The fatwa issued by the clerics in the province plagued by militancy, only the leader of the Islamic state has the authority to declare "jihad" (holy war).
The fatwa stated that not everyone has the authority to proclaim jihad.
The fatwa declares that taking up arms against the police and military personnel is against both the Sharia and the state, and anyone who rebels against the constitution and laws of Pakistan will be punishable by law.
Many religious leaders from various schools of thought have signed the 14-page fatwa, according to sources, including Maulana Qari Ehsanul Haq, Mufti Subhanallah Jan, Dr. Maulana Attaur Rehman, Maulana Hussain Ahmed, Mufti Mukhtarullah Haqqani, Allama Abid Hussain Shakri, and Maulana Abdul Kareem.
The National Security Committee (NSC) of Pakistan recently declared that no country would be allowed to provide sanctuary and facilitation to terrorists and that Pakistan reserves all rights to protect its people.
This terrorism will be dealt with with the full force of the state. "Pakistan's security is non-compromisable, and the full writ of the state will be maintained on every inch of the territory," the committee had decided.
Rana Sanaullah, the federal minister of interior, stated in a press conference on January 4 that 67% of assaults during the previous year occurred in Khyber Pakhtunkhwa and 31% in Balochistan, while 1% of attacks occurred in Sindh and Punjab.