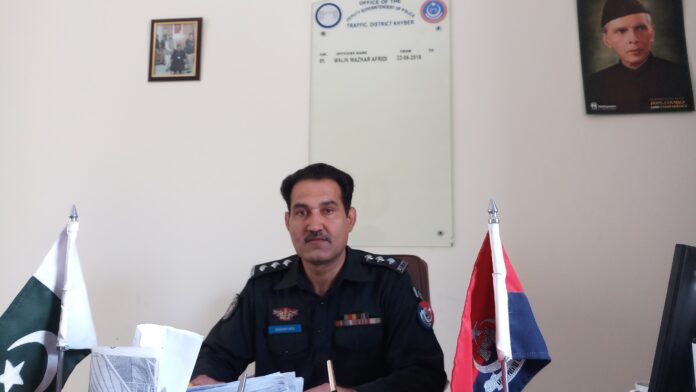 Ashrafuddin Pirzada
LANDIKOTAL: The first-ever Deputy Superintendent of Khyber traffic Police (DSP) Malik Mazhar Afridi on Tuesday applauded the traffic police performance and said that they have gathered a sum of Rs27, million as driving license fee and traffic violation fines collectively in the past two years and deposited it in the national exchequer.
Mazhar was speaking to FATA VOICE after he attended a high-level traffic police officers' yearly review meeting held at Traffic Headquarters in Shakas in Jamrud. He said traffic police squad was established after Fata merged with Khyber Pakhtunkhwa. He said the aim of the traffic squad was to organize traffic in district Khyber that had been remained a headache for commuters. He said traffic police with the help of media and civil society first ran awareness campaigns and educated citizens about the traffic laws importance.
"It was a challenging job for me when I was posted as traffic police head at Khyber district but with the guidelines of senior police officials we chalked out various plans so that first they could minimize traffic incidents and save lives", said DSP Mazhar. He said they have so far issued 5183 driving licenses and 7000 driving learners to the new applicants in district Khyber.
DSP traffic said traffic police personnel have been deployed at various spots while several mobile traffic vans were also operating in the district to organize the traffic. He said traffic police have so far collected fines of Rs.2.5 million of traffic rules violations, Rs20, million as highway laws violation fines, and collected Rs4.1 million as license fee in the past two years.
Mazhar thanked Inspector General of Khyber Pakhtunkhwa(IGP), Capital City Police Officer(CCPO), and District Police Officer(DPO) Khyber for providing him four brand new mobile vans, body and fixed vehicle's cameras to the Khyber traffic police that only helped reduced time consumption but it also ensured transparency and fairness of police performance. He assured that soon a traffic police call and emergency center would be opened in the Landikotal subdivision so that citizens could have easily had access for their documentation and other purposes.
"Initially the residents were not familiar with the traffic laws due to which a number of traffic incidents daily took place in the district", said Mazhar. He said they first informed citizens of traffic laws and then started minimum fines so that everyone should abide by the traffic rules. He claimed to have 50 percent of traffic mishaps decreased after the traffic squad started work in district Khyber two years ago.
The Khyber traffic head said several speeding cameras also installed at various points through which they control over-speeding on the Peshawar-Torkham highway. "The Khyber Pakhtunkhwa police Inspector General and his other high ups are satisfied with the Khyber traffic squad as it gave results and deposited a handsome amount in the national treasury", said Mazhar.
Malik Mazhar Afridi said for the convenience of applicants and fine depositors a bank branch established at the traffic headquarter in Shakas in Jamrud. He praised the traffic police and said that despite the limited resources available they performed well and generated a handsome revenue in the past two years of its establishment. He said Khyber Traffic police need further professional training and other modern equipment including raincoats, umbrellas, motorbikes, and wireless sets for traffic sergeants to bring further improvement in the Khyber traffic police.