By Ashrafuddin Pirzada
PESHAWAR: Urging the participants to live in peace and work for the development of Pakistan, minority MPA Wilson Wazir on Saturday said regional peace is impossible without religious harmony and tolerance in the society.
Speaking at a day-long seminar titled "Peace and views of different stakeholders" member of provincial assembly Wilson Wazir said that all members of the society should play their due role to achieve United Nations Sustainable Development Goals(SDGs).
The seminar was organized by the United Nations Development Youth Empowerment programme which was attended by jointly including Muslims, Christians and students.
The organizers had strictly followed Standard Operating Procedures(SOP) while observing social distance during the seminar.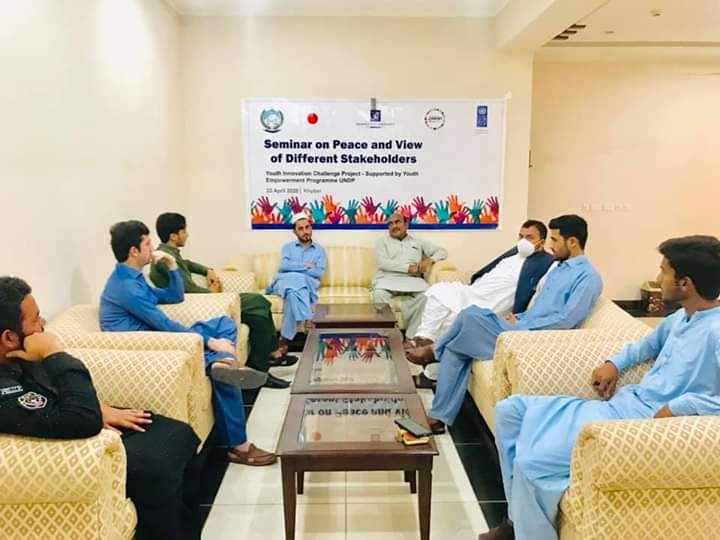 MPA Wilson Wazir said that peace had been restored in district Khyber especially all other newly merged districts at the cost of sacrifices rendered by locals and security forces. He said people from different schools of thought were playing their important role in sustainable peace in erstwhile Fata districts.
He said that Pakistani society was a landmark for the rest of the world where Christians and other minorities have symbolic relations with Muslims.
The parliamentarians said that Pakistan had played an important role in the US-Taliban peace accord recently signed in Qatar. He said peace in Afghanistan was inevitable for peace in Pakistan.
"As Pakistani citizen and from minority Christians community I fully support the US-Taliban peace agreement and appreciate foreign minister's Shah Mehmood Qureshi hectic efforts for the historical peace accord", Wilson said.
He said the world would work on the development of countries in need and would focus on the development of Afghanistan.
He urged that every Pakistani citizen should come forward and support those who play an important role in peace and development.
Participants discussed various aspects and gave suggestions for long-lasting peace.
In closing remarks of the seminar, UNDP representative Haris Khan Shinwari said that youth was the asset of society and UNDP would closely work with them to peace and tolerance. He said youth could change the future of society this why the government must be benefited from their peace efforts.