By Ashrafuddin Pirzada
LANDIKOTAL: The Fata Research Centre(FRC) in its annual report said that the security situation in erstwhile Fata districts and Khyber Pakhtunkhwa was recorded improved in 2019 as they have documented less number of terror attacks as compared to 2018.
A detailed document shared with the Fata voice news agency on Wednesday said that a total of 160 violent incidents including106 terrorism attacks and 54 counter-terrorism incidents were recorded during the year 2019. It said that 264 including127 terrorism and 137 counter-terrorism incidents happened in 2018.
The research report showed a decline of 16 per cent in terrorism incidents while 82 per cent in counter-terrorism incidents in 2019 witnessed in 2019.
It further said that a total of 54 terrorist attacks were carried out on the security forces while in 48 attacks civilians were targeted. Four terrorist attacks targeted members of a civil militia or Amn Lashkar.
The FRC report said that 171 persons were killed while 110 others suffered injuries in violent incidents of both terrorist and anti-terrorist incidents in Tribal districts and Khyber Pakhtunkhwa.
The report said 54 security forces personnel were killed while 107 others were Injured in 2019. It claimed a reduction of 24 per cent in attacks compared to the last year.
Comparatively, a 12 per cent increase in the security forces casualties was observed in the reporting year as compared to 2018. Civilians stood second with 87 casualties including 35 killed and 52 injured.
As compared to the previous year a significant decline of 55 per cent was observed in civilian casualties in the reporting year. Eight casualties of Amn Lashkar personnel of which six were killed and two were injured were also recorded during the year 2019.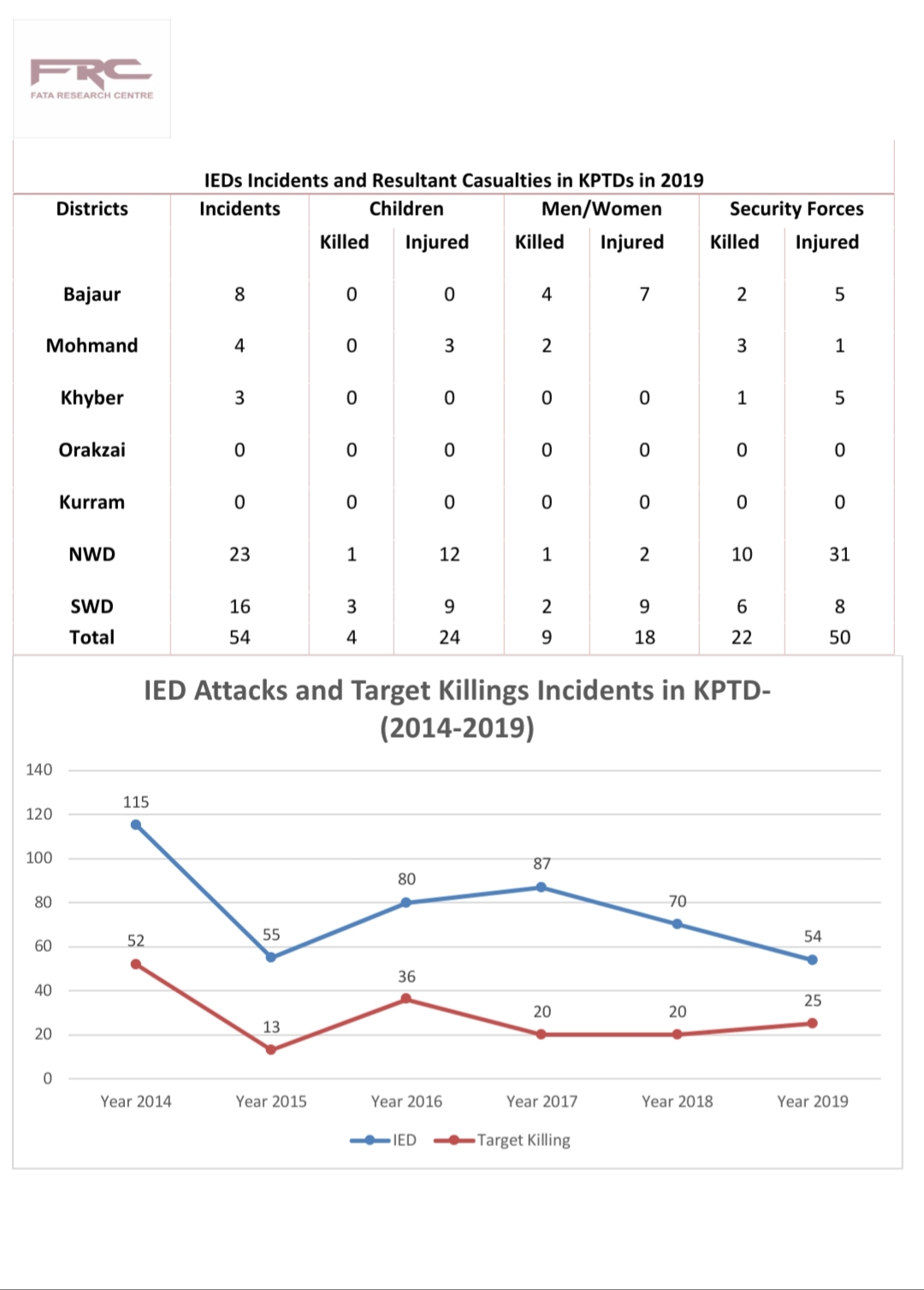 The reports found that in terms of volatility, the North Waziristan tribal district remained the most turbulent in tribal districts and Khyber Pakhtunkhwa. 45 terrorism incidents were recorded in the district during the reporting year compared to 58 such incidents in the previous year.
The South Waziristan tribal district stood second with 25 terrorist incidents which resulted in 44 casualties where 17 persons were killed and 26 Injured.
Bajaur and Khyber tribal districts reported 15 and 12 terrorist incidents respectively. Six terrorism-related incidents were reported in the Momand district while only one such incident took place in the Orakzai district last year.
Although only one terrorism-related incident was also reported from the Kurram district. The Kurram district is highly vulnerable to terrorist attacks due to its proximity to the Nangarhar, one of the volatile provinces of Afghanistan, the report mentioned.
According to the report, Tehreek-e-Taliban (TTP) factions of Hakeemullah and Mufti Noor Wali remained the major actors of instability in the KP and in tribal districts during the year 2019.
Fata research centre security Analyst Irfanudin told this scribe that military operations against militant groups in the Khyber Pakhtunkhwa and Tribal districts have considerably weakened the operational capacity of militant organizations.
"Instead of suicide attacks, militants are now largely relying on cross-border attacks, target killing and IED attacks to remain in limelight in the Khyber Pakhtunkhwa and Tribal districts", said Irfan. He added that It shows the significance of hardcore approaches adopted by the Pakistani government in debilitating the militant networks of both local and foreign militants operating in tribal areas of Pakistan.