Ashrafuddin Pirzada
LANDIKOTAL: Federal minister for religious affairs doctor Noorul Haq Qadri on Sunday said that construction of sports grounds and organizing sports festivals in erstwhile Fata show that all social evils are defeated and peace has been restored in all tribal districts.
Doctor Noorul Haq Qadri was speaking to an opening ceremony of Bismillah memorial football tournament started at Bismillah Sports Ground in Adilkhad border village in Landikotal.He said that it was an omen of peace that at a time several sports event are being underway in all tribal belt.
"Pakistani nation and Pak-army jointly played a vital role in the past two decads-long war on terror and defended its boundries at cost of life sacrifices",said Qadri.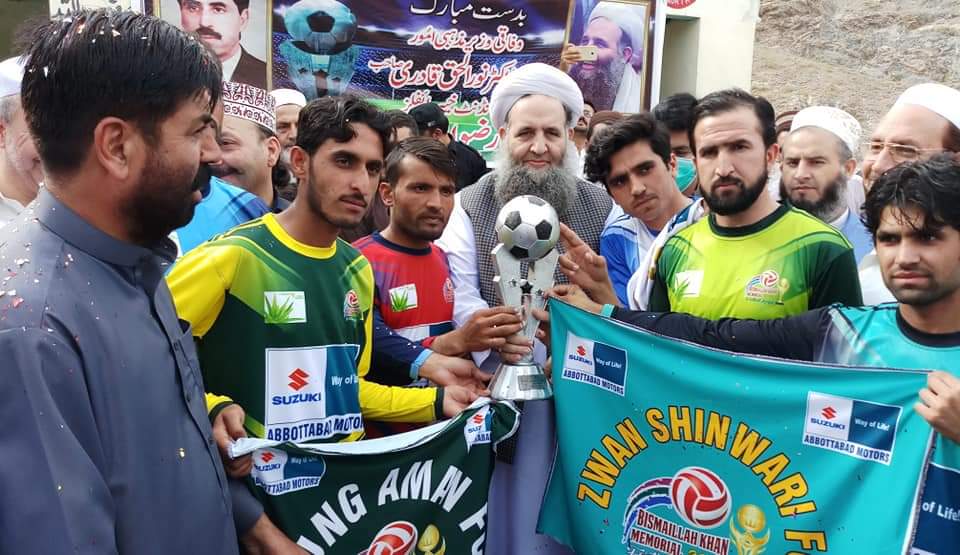 He added that his party is committed to promote healthy activities and provide best possible sports facilities to the youth in Pakistan.
"The land of Khyber is rich of talent wherefrom a number of legends emerged in all fields of life including sports,culture and science and technology who not only portrayed a soft image of Pakistan but made its nation proud", Qadri maintained.
He said that if the government not extends its social,moral and financial assistance to sportsmen they could go into the wrong hands of extrimism and terrorism.
Urging the youth to adopt health habits,the minister saud promoting sports was always highly appreciated at the government level as it is being used as weapon to curb use of narcotics.
He said construction work on various sports grounds in Landikotal was in progress while the government has approved Hamza Baba sports complex in Landikotal where they would soon launch construction work.
The minister thanked commandant Khyber Rifles Col, Bilal Mehmood,leutenent col, Ibrar and other officials for sponsering the construction of Bismillah Sports Ground in the border village Adilkhad in Landikotal.
PTI leader Ameer Khan Afridi,erstwhile Fata Zakat committee chairman Ihsanullah Junaidi,Zarbullah and other party workers also attended the ceremony.