PAKISTAN: Journalists, political parties leaders and social activists on Monday staged a protest demonstration at Bacha Khan Chowk in Landikotal bazaar to record their protest against the arrest of former Bara press club president Khadim Afridi.
The protest, led by Landikotal press club president Mehrab Shah Afridi, was participated by, a large number of local traders, civil society members, Bazaar traders' union leaders, elected councillors, philanthropists, Khyber Siyasi Ethihad leaders, tehsil chairman Shah Khalid Shinwari, PMLN local chapter leader Sajid Afridi, Jamat-e-Islami Ameer Landikotal Muqtadar Shah Afridi, social worker Shakir Afridi, Khyber sports club general secretary Kalimullah Shinwari, Pakistan People's Party leader Hamish Shinwari, Christian community leader Arshad Masih and Naujawanan-e-Qabail president Saeed Khan Shinwari.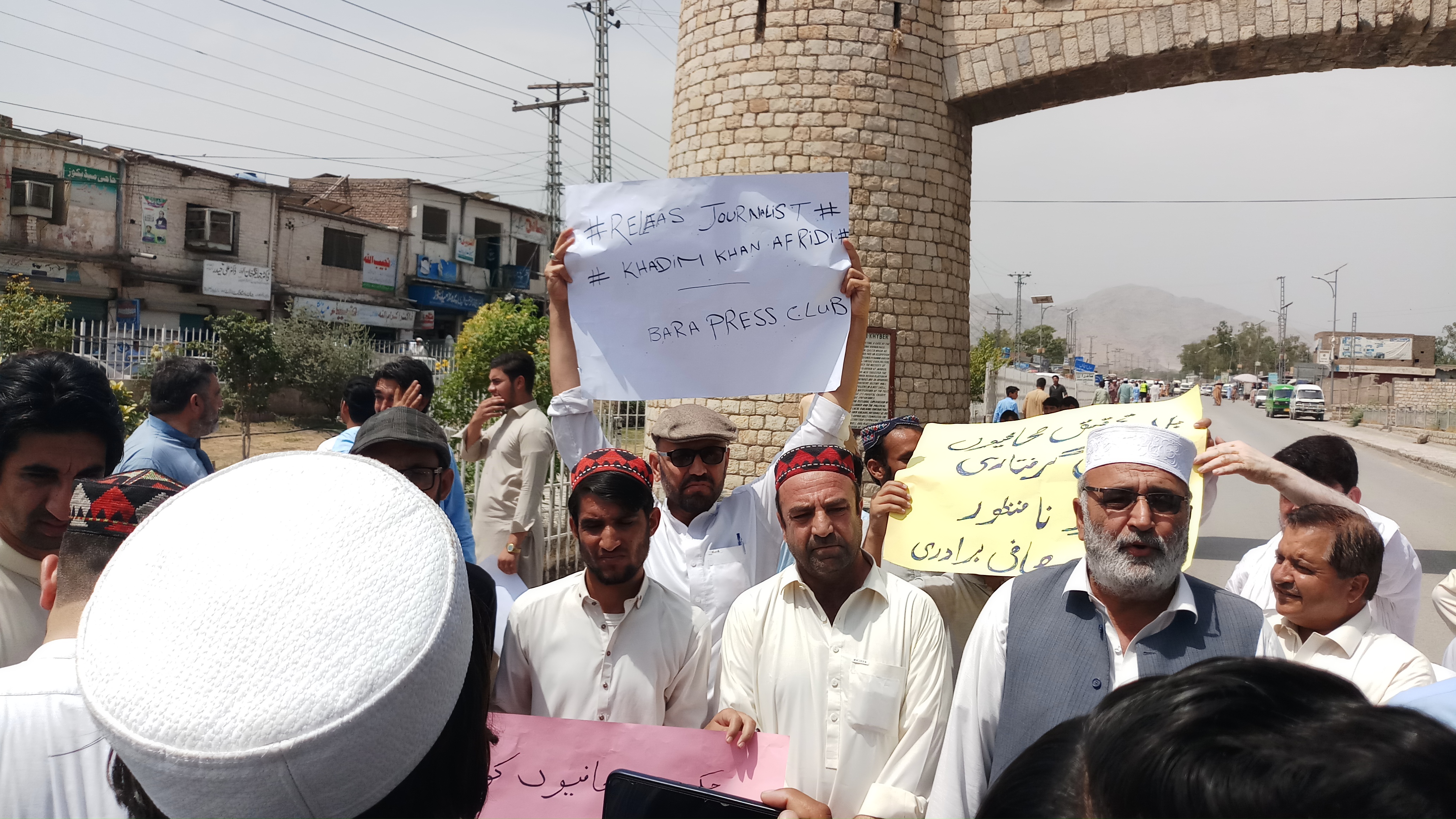 They marched from Landikotal press club and gathered at Bacha Khan Chow in Landikotal bazaar.
Speakers including Landikotal press club president Mehrab Shah Afridi termed the arrest of Khadim Afridi as an attack on free and fair journalism. They said the arrest of a journalist was aimed at silencing the voice of the public for their due rights.

Journalists communities across the country observed strikes and held protests to show their solidarity with the arrested journalist in district Khyber. They termed the arrest as pressurizing the whole journalist community to stop facts reporting in Pakistan.
The protesters were holding banners and placards inscribed with slogans against Counter-Terrorism Department(CTD) police and the illegal arrest of a journalist. They demanded of the government to release the arrested journalist and seek an apology for their immoral and illegal act.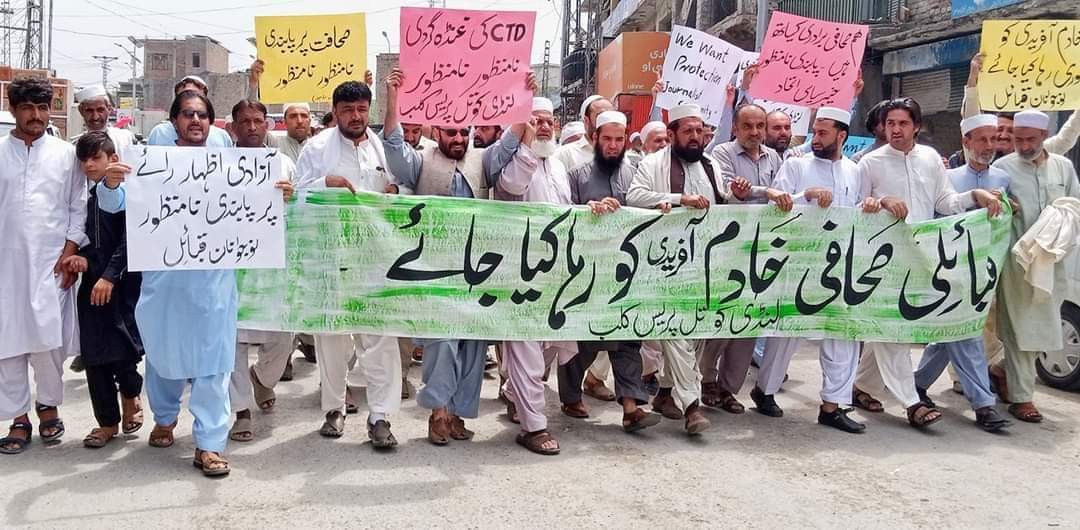 Journalists and political party leaders said that they would not compromise on free and fair journalism as journalists were the ears and eyes of society. They said Khadim Afridi did nothing wrong but he was being punished over his balanced reporting.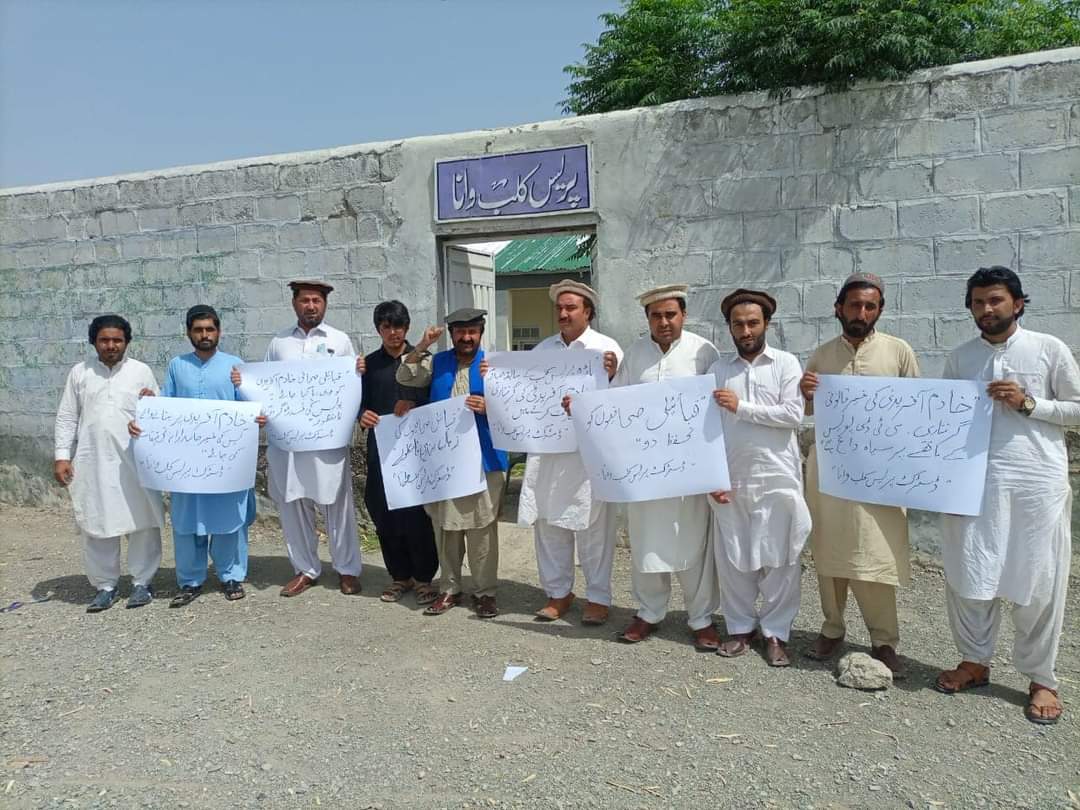 Khyber Siyasi Etihad leaders categorically condemned the arrest of the journalist and said that they would be back journalists at all forums to raise voices against any lawlessness.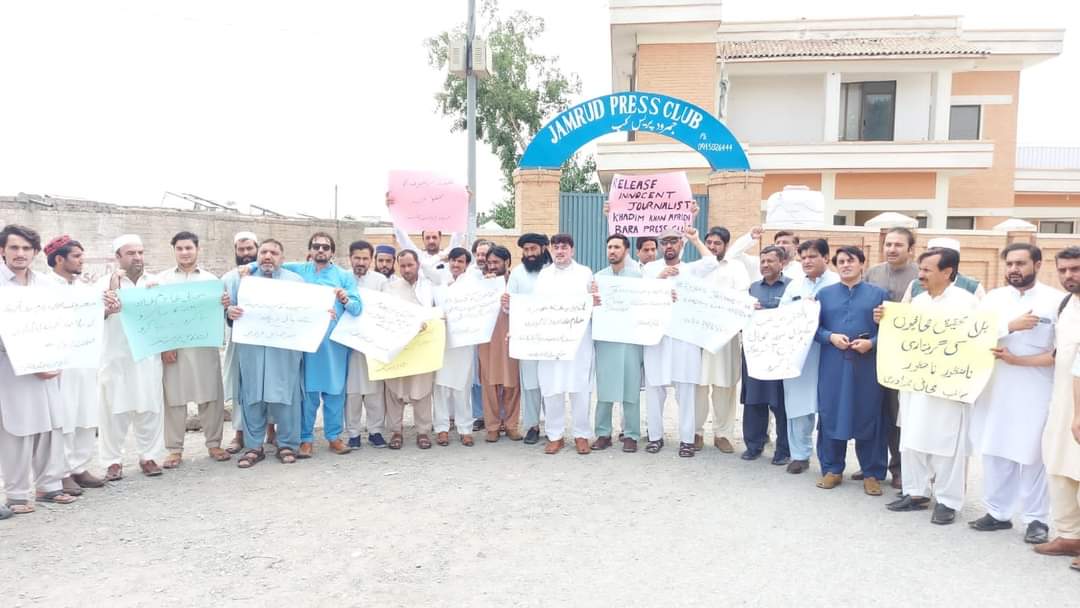 They threatened to give the countrywide protest call and block the Pak-Afghan highway in Khyber if Khadim Afridi was not released forthwith