By Ashrafuddin Pirzada
LANDIKOTAL: The Khyber district administration with the collaboration of sports department arranged poetry session in Mulagory tehsil in Khyber tribal district on Sunday.
Deputy commissioner of Khyber tribal district Mehmood Aslam Wazir was chief guest on the occasion. The Mushaira(poetry session) was jointly arranged by district administration and sports and culture department.A rich tribute was paid to the great pashto poet Ameer Hamza Khan Shibwari.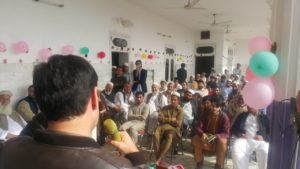 A good number of poets,intellectuals and writers from different areas of Khyber Pakhtunkhwa participated in the session.
The theme of session was Yadgerana (remembering) to shed light on the life and poetry of Hamza Baba.
Speaking on the occasion Mehmood Aslam Wazir said that participants termed Hamza Baba a legend personality of the 21st centurt.He said Hamza Baba was not only famous among aged and educated persons but youth also fond of his poetry. Deputy commissioner Mehmood Aslam announced that soon they would conduct international poetry gathering in which national and international poets and writers would take part.