Nasib Shah Shinwari/Shamsul Amin Pirzada
LANDIKOTAL: The leaders and volunteers of the Pakhtun Tahaffuz Movement (PTM) have said that Pakthuns were not terrorists and the Pakhtuns were the loyal citizens of Pakistan.
The leaders and workers were addressing to a procession organized at Bacha Khan square of Landikotal bazar on Sunday under the auspices of PTM.
Hundreds of PTM activities, civil society's member from different areas of Fata took part in the gathering. The protesters marched from Railway trick chanting slogans in favour of their demands and gathered at Bacha Khan square in Landikotal bazaar.
Addressing to the gathering, PTM leaders Said Alam Mehsud, Najeeb Lala, Ali Wazir and Fata Lawyers' forum president and PTM representatives Rahim Shah Afridi said that PTM was not a political movement but it was the name of peacefull platform of Pakhtuns struggling for the rights of Paskhtun people
The leaders said that Pakhtuns were the loyal citizens of Pakistan and always protected Pakistan.
The leaders said that some 72000 Persons had been martyred during the war against terrorism in Pakistan, however some 62000 among them were Pakhtuns.
The PTM leaders s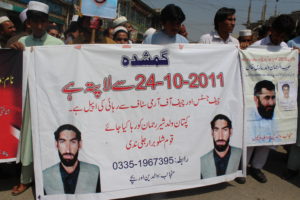 aid that this movement was a nonpolitical and unbiased platform of Pakhtuns which only work and believe to protect the rights of Pakhtuns tribe and fight for the rights of Pakhtuns.
The leaders demanded that Levy and Khasadar force personnel should be deployed on the various check posts across Fata.
The leaders said that the inhuman behavior of security force personnel with tribal Pakhuns were not acceptable any more. They said this inhuman act of the forces were creating hatred among Pakhtuns against state and security forces.
"If anyone is guilty should be presented in the courts and reward them punishment but keeping in isolation is against the human laws", one of the speakers said.
"PTM demands early and, safe recovery of all missing people and they are against the security personnel behavior with the commuters while passing through the check posts in Fata", they addressed.
They added that Pakhtuns and specially Fata people have not only rendered life sacrifices and their homes were also looted. PTM did not have political ambitions and would not support any political party in the elections.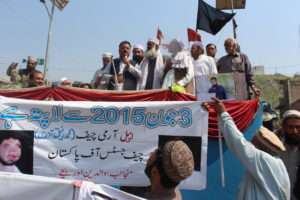 They said that they were neither against state nor against any state departments but they were against those who were busy to make Pashtuns oppressed and terrorist. They reserved the right to raise their voice against cruelty and injustice with the Pakhtuns population across Pakistan. They said it was their legal right to stop anyone humiliating Pakistani citizen on the name of national security.
They said every state department and every citizen of Pakistan must be in the limit of law. They must offer their duties that Constitution has given to them.
The PTM leaders said that on April 8 they were going to conduct huge public gathering in Peshawar and invited all political parties' leaders for their participation. They said political parties were asked not to wave their party flags in the PTM gatherings as it would politicize their movement. PTM leaders urged people to join them and make their movement a successful one.
According to some eyewitness, the relatives of more than one hundred persons provided the details of their close relatives who had been missing from a long time and have not returned homes nor they have contacted with their family members about their whereabouts.