By Ashrafuddin Pirzada
LANDIKOTAL(Khyber District): On the call of Prime Minister millions of citizens across the glob and in Pakistan participated in "Kashmir Hour"where Imran Khan and federal ministers stood at the front of their offices in Islamabad for thirty minutes to show their solidarity with Kashmiri people and condemned Indian forces occupation in held Jammu and Kashmir on Friday.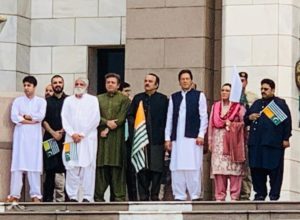 Prime Minister Imran came out of his office and observed Kashmir hours along with a large number officials and politicians at 12pm.
They stood from 12am for thirty minutes to observe Kashmir Hour and show their moral and Islamic solidarity of the Pakistani citizens with Kashmiri people.
Thousands of Islamabad residents and Kashmiri people fathered where Prime Minister Imran Khan and his team came at the front door of his office.Big Kashmiri and Pakistani flags were hanged out on the left and right the main office gate door.
Speaking on the occasion, PM Khan said Pakistan is standing by Kashmiris and would not let the Indian troops to shed the innocent people's blood in Kashmir. He said being a Kashmiri embassador he would take up their issue at every forum in the world. He said Modi has made a mistake which could not be repaired. Imran Khan assured Kashimiris that Pakistsnis are with them and would not stop their struggle to until Kashmir not get its freedom from India.
Khan said Pakistan army is awared of Indian plans and well prepaired to block any kind of aggression from Indian side. He said Modi government led the Indian people into point of no return which is dangerious for the region.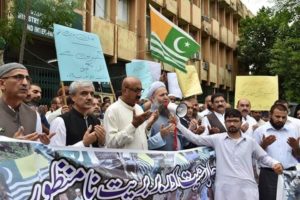 Meanwhile, Federal minister for religious affairs and inter faith harmony doctor Noorul Haq Qadri also observed Kashmiri hour out side his office in Islamabad.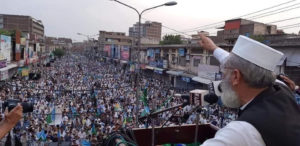 Jamat-e-Islam chief senator Sirajul Haq led a huge Kashmir rally and addressed the participants.
Hundreds of his supporters,office bearers and party workers were also with him. He chanted slogans in favour of Kashimiri people and asked the Indian government to withdraw its troops from the occulied territories. Qadri said Pakistan fought Kashmir issue morally and now the time has come that they would take every step to safe the Kashimiris land and their honor.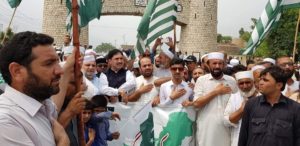 The federal minister Noorul Haq Qadri asked Pakistani citizens across the world to morlly support Kashimiri people and observe Kashmir hour at every cornor of the world.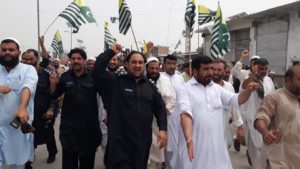 Like the the other part of the world thousands of tribal people in Bara,Jamrud and Landikotal tehsils of Khyber tribal district observed Kashmir hour and conducted march rallies at various places.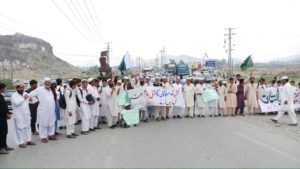 Tanzeem-Ahle Sunmat Waljumat,PTI,JUI-F,JI and other local civil and political organizations and officials took part in the Kashmir Hour and chanted slogans against Indian occupation in Jammu and Kashmir.
They were holding placards,banners and Kashmiri flag in their hands and conducted rallies. The traffic flow was remained suspemded during the Kashmir hour from 12pm to 12:30pm.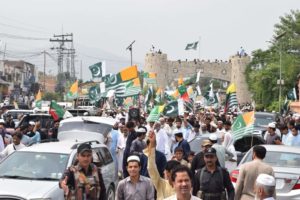 In Landikotal, thousands of residents including political party workers,officials,security personnel and Tanzeem-e-Ahle Sunmat leaders and supporters marched on Pak-Afghan Highway and gathered at Charwazgai Chowk.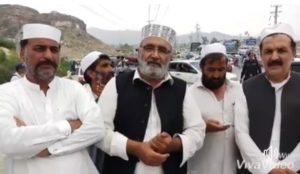 Speakers including Shakir Afridi and others said that ten million tribal people are ready to fight with Indian troops in Kashmir. He said the history will repeat it self after decads if Indian forces not withdraw from J&K. He said Pakistani nation and especially tribal people will fight side by side with Pakistan army to defeat Indian troops in Kashmir.