By Ashrafuddin Pirzada
LANDIKOTAL: Speakers in an awareness session said that the numbers of HIV Aids patients fastly increasing that also caused the deaths of several people in erstwhile Fata in the past one year.
District administration with the collaboration of the Khyber Pakhtunkhwa AIDs program had arranged a day-long awareness session at Jamrud Jirga Hall on Tuesday. The session was attended by a score of school and college students, elders, media persons and officials of Khyber district administration.
Deputy Commissioner of Khyber district Mehmood Aslam Wazir was the chief guest. Assistant commissioner Akbar Iftikhar, district education officer Muhammad Jadoon Wazir and Khyber Pakhtunkhwa Aids program officials were also present on the occasion.
Speaking on the occasion, the KP Aids program in charge doctor Durkhany Wali Khan said that not only sexual relations but used injection, barbers, untested blood infusion also communicate the HIV virus from one to another person. She said poor awareness and cultural taboos cause fastly increasing of HIV in the tribal areas.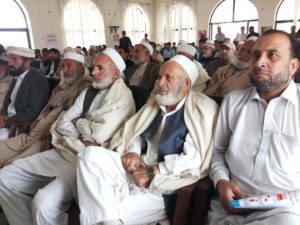 Durkhany said HIV treatment now can be treated through a single pill a day. She said HIV patients should not hesitate to diagnose and get proper treatment. "Not only for ourselves but for the coming generations we should respect family life and confine to life partner",Durkhany said.
She said a large number of aids positive persons do not know about the lethal HIV they carry in their bodies. She said they would also run awareness sessions in ten selected places in erstwhile Fata.
Another Aids program official Nadir Afridi said in the initial five to eight years HIV Aids signs and symptoms do not appear on the human body. He said it was a must to test blood once at least every year.
Nadir said in the initial six months laboratory tests can not catch the HIV virus. He added that everyone should test blood every year. He said they have registered 738 HIV patients in erstwhile Fata districts who are being treated regularly. He said 130 persons with HIV are registered in Khyber district, Mohmand 62, Orakzy district 34, Kurram district 148, North Waziristan 190, South Waziristan 113 and 61 HIV patients are getting treatment from district Bajaur so far from their health centre in Peshawar.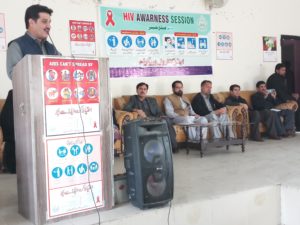 He said to serve humanity every health worker, officials and media should work together and spread awareness to protect youth. He said
HIV was a silent killer to destroy body organs in 8 years.
DC Mahmood Aslam Wazir said care and use of safe blood can protect from AIDs. He said dozens of people including women and children have died of HIV Aids but they did not diagnose.:
He urged health officials, elders, media to play their important role to stop aids and save a life.
Mehmood said HIV-positive parents also infect their children with HIV. He said a large number of people have died of HIV just they were not awarded the lethal Aids virus they carry in their body.
The official said they are going to launch a crackdown against fake doctors and laboratories that spread HIV in the Khyber district. He asked participants to test their blood and save a life