By Ashrafuddin Pirzada
LANDIKOTAL(KP): Students arranged a science and cultural exhibition in the government girls' degree college in Jamrud on Wednesday.
The day-long exhibition was visited by a score of officials, students and civil society members.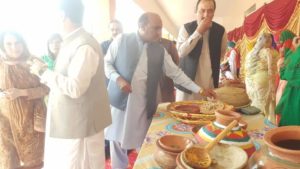 Along with hand-made goods, clothes, foods, kitchen wares, the students had also installed physics, bio, chemistry and other scientific goods' stalls in the exhibition.
Secretary higher education for Khyber Pakhtunkhwa province Manzoor Ahmad, Khyber Pakhtunkhwa Assembly members, Alhaj Shafiq Sher Afridi, Alhaj Bilawal Afridi, minority MPA Wilson Wazir and college principal Mrs. Najamul Sahar also visited the stalls and took interests in the exhibition.
Talking to this scribe secretary higher education Manzoor Ahmad, Wilson Wazir and Shafiq Sher Afridi said that the aim of the event was to bring up the talent so that they could encourage them for their pri tical life. They said girls were being considered somehow less skillful and with a low rate of talent in the man-dominated societies.
Wilson Wazir said being the first minority member of the provincial assembly he would take up women's sports and cultural issues of the Khyber tribal district in the parliament.

Shafiq Sher Afridi said the government should cooperate and coordinate with the women who locally making hand made goods to reach national and international markets. He said if educational institutions focus on extra curriculum activities would make a wide difference towards a socially and economically strong society in Pakistan.
Civil society members and parents of the girl's students told the media that the government should encourage the schools and college girls students and provide them funds so that the girls of tribal areas could also impart their due role in making Pakistan economically prosperous.