Fata Voice News Agency
GHALANAI: To attract more female students of Mohmand agency to the healthy activities of sports and education, female sports gala has kicked off at government degree collage for girls in Ekka-Ghound tehsil of Mohmand Agency.
The administration officials of Ekkaghound, assistant political agent(APA) Tauseef Khallid, principal of the girls collage, political tehsildar Khaista Rehman and agency sports manager Saeed Akhtar participated at the opening ceremony of sports event.
APA Touseef Khalid, talking on the occasion said that sport was essential for healthy life and if a person whether male or female involve in daily exercise and sports would become healthy who can then play his/her role in the development society.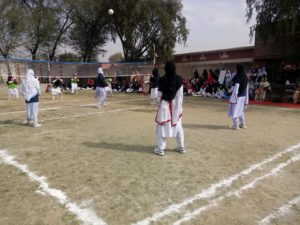 He said sports activities are the signs of peace in the tribal agency of Fata and urged the girl students to excel in education and sports to earn good name for Fata and Pakistan on national and international level.