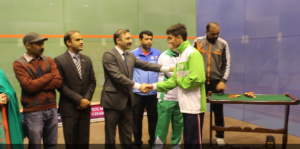 Nasib Shah Shinwari
LANDIKOTAL: The squash players of the federally administered tribal areas (FATA) have clinched third position in team compititions during second Quaid-e-Azam Inter provincial games held at Pakistan sports complex Islamabad from 25 to 29 december,2017.
FATA squash team coach Alamzeb Qureshi said that men individual events were played in Islamabad. He said Haris Khan Shinwari,Fazal Mehmood,Abbas Nawaz and Muhammad Samiullah played their individual matches with their opponents from Gilgit Baltistan, Punjab,Khyber Pakhtunkhwa,Sind and Kashmir. He said his team beat Islamabad and got third position in the tournament.
Qureshi said the same Fata team would also participate in the team event being played in the Qaid-e-Azam squash tournament on 28 and 29 December. He said Harish Khan had made his debut with his full skills and talent. He said Harish in his matches defeated his opponents with a great margin. Qureshi said he was providing a tough training to the team and hopefully participate in the international quash events across the world in the coming months.
Harish Khan Shinwari father Asad Khan Shinwari when contacted he thanked Pakistani coaches and management for their tireless efforts that they making him pround for his son's performance. He said it was a test case for Fata squash players they played a national game as they had to build up their technices and skills so that they could win International squash events and wave Pakistani flag once again on the top after Jansher Khan and Jahangir Khan.
Fata sports lovers and players celebrated the Fata team best performances and distributed sweets in various areas of Fata.
It may be added here that the Fata players were for the first time participating in a national squash tournament and defeated experienced players.