Nasib Shah Shinwari
LANDIKOTAL: The girl players of Archery sport from Fata (Federally administered tribal areas) have won gold and bronze medals in various sports events, but they have been facing a lack of archery equipment and proper training to carry on this sport to represent Fata regions in national and international sports events.
The official and manager of the Fata Archery team, Ms, Noreen from FR-Kohat(Fata) while talking to this scribe said, her daughters and son were playing this game for a long time.
She said her son and daughters were outstanding performers in this sport and won gold and bronze medals in many sports events on a national level.
She said some eight female players and six boys were also regularly playing and practicing this healthy game at our club but due to lack of equipment, the players were not in the position to buy a standard bow and arrows to continue this game.
The team manager said, she made efforts to register the Fata archery team and players with relevant departments, and now this team is officially registered and recognized.
I have hardly arranged money to buy a bow and sow arrows for the team players but this bow is not of a standard quality nor does it fulfill the requirement of my team players to prepare them for national events. Noreen stated.
"The equipment of this sport 'bow' and 'arrows' were very expensive and the players of Fata regions were not able to buy the equipment". She stated and added that despite she herself and the players informing the concerned officials about the issue, they have not bought any equipment for the Fata archery players.
I left my job only for this purpose to give time to my daughters who were interested to play and excel in this sport. She said.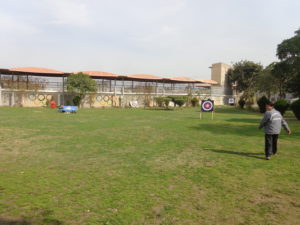 She demanded the director of Sports Fata to do arrangements to provide a bow and arrows of 70-meter distance so that the girl players of archery could continue playing this game to earn a good name for Fata and Pakistan on national and international levels.
Aqsa Shah, the daughter of the team manager and the best player of archery from FR-Kohat (Fata) said she want to continue playing this game but due to the unavailability of sports equipment the girl players of Fata had difficulties.
A standard bow of 70 meters with the best quality is available in the market for Rs. 120,000.00 which she and her family can't afford to buy. Shah said
She said many times they informed the relevant department about this issue but they always replied that fund was not released to buy archery equipment.
The directorate of sports Fata should buy a standard bow of 70 meters for our team so that we can practice for the upcoming national archery championship. Aqsa Shah demanded.
It is pertinent to mention here that a day before the meeting of (FOA) the Fata Olympic association was held at Qayum sports complex Peshawar where Shahid Shinwari, the president of FOA was chairing the meeting.
During the meeting, issues of and trials of Fata players for the upcoming 4th inter-provincial games at Peshwar were discussed and today(1st march), the director of sports Fata would announce the trial dates for Fata players during a press conference at Qayum sports complex Peshawar.
Some female archery players from Fata during the meeting informed the officials of the FOA about the archery equipment issue and the representatives of the FOA ensured the players that their issue would be taken up and discussed with the concerned official and department.