By Ashrafuddin Pirzada
LANDIKOTAL: After the merger of tribal districts in Khyber Pakhtunkhwa the Tribal Electric Supply Company(Tesco) for the first time formally inaugurated electricity metalization in Landikotal on Tuesday.
A ceremony was held in Landikotal bazaar where the deputy commissioner of Khyber district Mehmood Aslam Wazir was the chief guest. Superintendent Divisional Engineer Rahmatullah and other TESCO officials and a large number of shopkeepers were present on the occasion.
The deputy commissioner installed the first-ever electricity meter to Emaraat Hotel in Landikotal bazaar.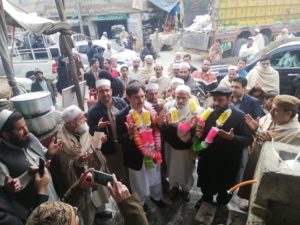 TESCO officials Rahmatullah said that initially, they have received 17 applications on the very first day for commercial meters installation in Landikotal bazaar.
He said around 60 other businessmen and shopkeepers are convinced to install their electricity meters in Landikotal bazaar.
However, traders said that if Tesco gives them the assurance to provide a minimum of 10 hours of electricity a day they would also install meters at a large level.
The Deputy Commissioner said they were working to provide a 12 to 16 hours power supply to those shopkeepers who installed electricity meters in the bazaar.