By Ashrafuddin Pirzada
LANDIKOTAL: Hundreds of Islamist protesters including political parties leaders have conduct protests in different locations of Khyber tribal district and chanted slogans against the person who committed nlasphemy in Norway.
The first protest rally was arranged by Pasban Tanzeem held in Landikotal bazaar. Hundreds of angry protesters participated in the rally. They were holding placards and banners with slogans against Norway.
Speaking on the occasion Tayyab Khalil and Qari Wadanullah said that it was not for the first time that a none muslim committ blasphemy in Western countries.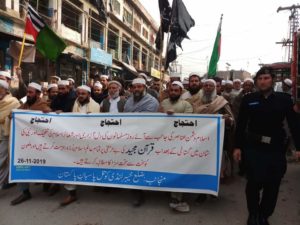 They demanded the execution of the person who tried to burn the holy Quran in Norway.
Speakers asked the muslim world to boycott from the Norwegian goods.
They said it should be cleared to the world that muslim will not hasitate to sacrifice for the sake of their religon Islam.
The Pasnan leaders demand of the govermment to cut off diplomatic trade relations with Norway and expel Morwegian embassador from Pakistan.They termed Omar Ilyas hero of Islam and paid salute to his courage.
They marched from Bacha Khan Chowk to Landikotal press club .
Meanwhile, Jamat-e-Islami(JI) leaders,workers and residents in Jamrud tehsil conduct protests against the blasphemy in Norway. They marched from Bab-e-Khyber and gathered at Jamrud Bazaar.They chanted slogans and demand publically execition of the Morwegian natoonal who commit the crime.