Shamsul-Amin Pirzada
LANDIKOTAL: A large number of Torkham clearing agents, traders, Khyber Political alliance, civil society members and residents of Landikotal on Wednesday observed a protest demonstration and rally in Landiktal bazaar in favour of their demands.
The chairman of All Torkham custom clearance Agents Association, Mirajuddin Shinwari and its president, Hayatullah Shinwari led the protest.
They marched from the hospital chowk and gathered at Bacha Khan square in Landikotal bazaar. They were holding black flags and banners inscribed with slogans against the new WEBOC system introduced for import and export from Afghanistan via Torkham border. They also chanted slogans against Torkham NLC officials for violation of Torkham NLC Terminal agreement.
Speaking on the occasion speakers, Mirajuddin Shinwari, Aftab Alam Afridi Zarnoor Afridi, Shermat Khan Afridi and Zarqeeb Shinwari said that it was not acceptable for them to use snatch business from them. They said officials of the National logistics Cell(NLC), Frontier Corpse(FC) and Pakistan customs should resolve their issues in Torkham rather make them jobless.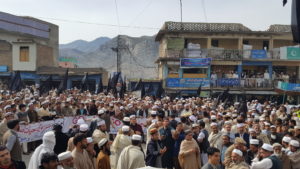 "We will not follow the WEBOC system of the jungle and will not under the pressure of the direct threats given to them by the Khyber Rifles official", said Mirajuddin.
He addressed the officials must not violate the agreement Khugakhel tribe people signed with NLC.
MNA Shajee Gul representative Nadeem Afridi, PTI activist, Abdur Raziq Shinwari and ANP Khyber Agency leader Shah Hussain Shinwari also spoke on the occasion.
e protesters appealed to the Chief of Army Staff, General Qamar Javed Bajwa to take notice of the issue.
They threatened that they would stage a protest in Islamabad if the WEBOC system does not takes back untill next Monday.