By Ashrafuddin Pirzada
LANDIKOTAL: Awami National Party provincial president Aimal Wali Khan on Wednesday said that they belief in Bacha Khan none violent mission and they will fight for the Pashtoons' rights at legal and political forum.
AImal Wali was speaking to a public gathering held in Landikotal said that they would not let the government to swallow tribal people resources in erstwhile Fata. He rejected the bill passed in Khyber Pakhtunkhwa assembly and said that it was the right of tribal people to benifit of the menirals exist in erstwhile Fata.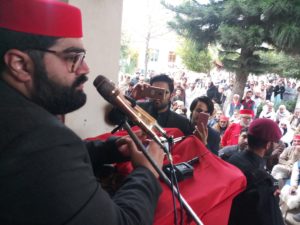 Aimal said it was the ANP leaders' dream to get Pashtoon in Pakistan united. He said we were working on the unity of Pashtoons solidarity and hope to get the dream true one day.
He said ANP was happy that they successed in reunification of tribal districts with the rest of Oashtoons in KP that had been intentially devided in past.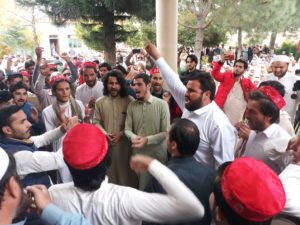 Aimal Wali Khan said though pashtoons geographycally united in Khyber Pakhunkhwa province but time also demands their mental and thinking unity so that they could achieve the real freedom.
The ANP leader said changing the name of the province in 2010 was their prime achievement. He said leaders ruling on the land of Pashtoons were not Pashtoons but they were imposed to fulfill their personal interests.
ANP leader said PTI government want to occupy on the minerals in erstwhile Fata which is the right of tribal people.He said ten million tribals yet not given a singal benifit after Fata was mergered in KP province.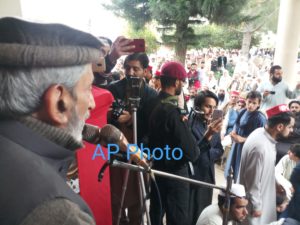 "I will struggle even i am not in the govrnmemt but will not let the Khyber Pakhunkhwa govermment to occpupy on the resources of tribal people", Aimal Khan.
Condemning the Shaokat Yusufzai statement about tribal people the ANP leader said that tribals were the proud nationals of Pakistan who always served on high ranking posts in the government.
He demamded of the government that Khasadars and levies must be inducted in police. He said they would not let anyone to snatch Khyber district people's right by others.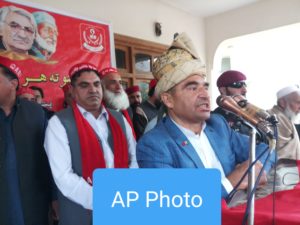 He said after decades long struggle they rooted out the draconian Frontier Crimes Regulations(FCR) from the tribal belt that had supressed tribal peoples.
He said tribal people had suffered in war against terrorism but the current rulers not bothered to take their grievences as serious matters.
ANP leader said they have decided to knock the court door against the government and would compel the PTI parliamemtarians to withdraw the tribal districts minerals' ownership bill.
ex- minister Haji Ghulam Ahmad Bilur thanked Malik Darya Khan and said that his family follow the foot print of Khan Abdul Ghafar Khan. He said Malik Nadar Khan was the right hand of Bacha Khan.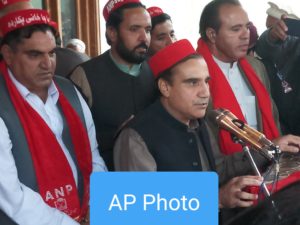 He said pashtoons fought against british rulers for their freedom but still they were not considered full Pakistani citizens.
He said Bacha Khan was against one unit as he was put in jail for 35 year.
Critisizing the central and provincial government Ghulam Ahmad Bilur said that all the parliamentarians are selected and imposed on them. He said under the leadership of Imran Khan Pakistan will lose more in the coming months.
Awami National Party leaders Malik Darya Khan, Shah Hussain Shinwari and others also spoke on the o casion.They welcomed opening of Kartarpur border with India and urged Imran Khan that he should also open Afghan border for the people of Afghanistan and Pakistan.