SADDA: At least 8 people of one family Including three women were killed when a vehicle struck a roadside bomb in the Maqbal area of Kurram Agency.
According to the source, that the accident took place when a vehicle hit a landmine in Maqbal area of Khurram Agency, killing 6 people including three women and one injuring.
The bodies and the wounded have been shifted to Hospital.
Security forces cordoned off the site of the incident and started a search operation in the area.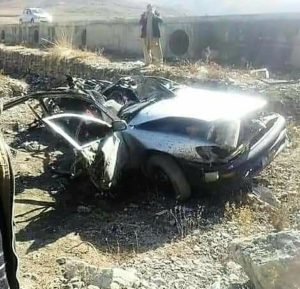 According to a local journalist, Muhammad Saleem in Kurram Agency another relative(sister) of the victim's family also died of heart failure in Peshawar when she heard about the sudden death of her eight family members.
Sources say the coffin of the dead female was on the way to Kurram Agency and all the family members would be laid to rest at the ancestral graveyard in upper Kurram Agency tonight.