By Ashrafuddin Pirzada
LANDIKOTAL: District Police Officer(DPO) of Khyber served show-cause notices to 450 police force personnel in district Khyber whose spouses had been receiving Benazir Income Support Programme(BISP)stipend for several years, officials said on Monday.
Talking to FATAVOICE District Police Officer of district Khyber Dr. Muhammad Iqbal said they have received complete data of 450 current police personnel whose spouses receiving money from Benazir Income Support Programme for the last several years. He said among the BISP beneficiaries 302 were from the ex-Khasadars force and 148 from ex-Levies force personnel.
DPO made it cleared that all this happened before the conversion of Khasadars and levies status into Khyber Pakhtunkhwa police.
He said they found 450 government servants registered with the Prime Minister's Emergency Ehsaas Programme.
"The names and other required data of those receiving BISP stipend sent us by the Prime Minister's Ehsaas Programme", said DPO.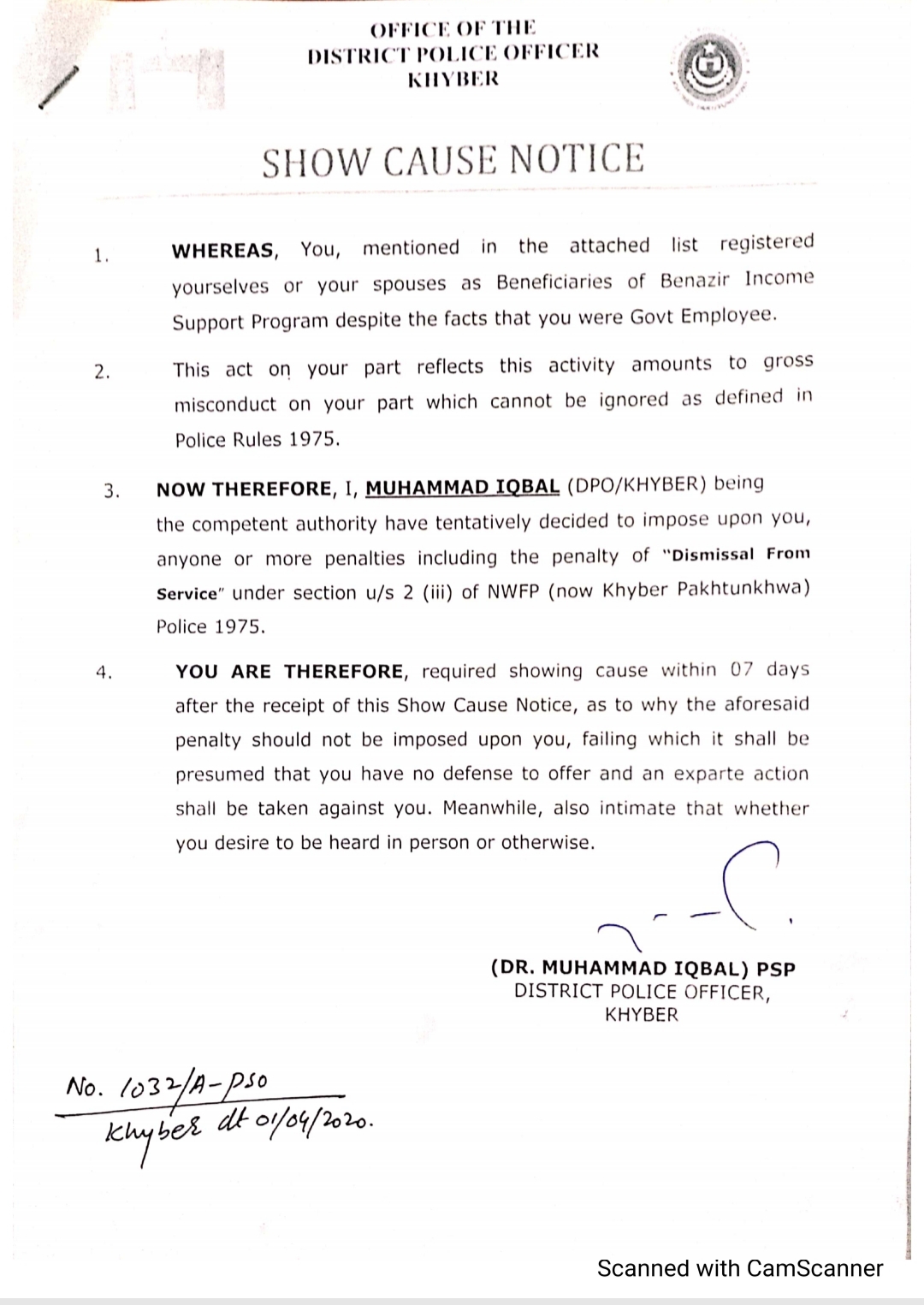 Dr. Iqbal said show-cause notices were served to all mentioned police personnel after their spouse's names appeared in the BISP beneficiary list. He said one week time was given to appear before the police inquiry committee and record their statement. He said in case of failure to appear or could not justify his status would be terminated from their services.
The police officer said in the coming days they would start the recovery of the amount which is in millions of rupees.
When contacted one of the police soldiers whose name was in the BISP programme told this scribe that he was Khasasar Sepoy and getting rupees 18,000 salaries per month.
The police sepoy, requested anonymity, said he had no other source of income and failed to adjust his family expenses at his salary.He said poverty compelled him and his wife applied for BISP stipend to support his poor family.
He said it was unfair that Prime Minister's Emergency Ehsaas Programme officials published their names as he did not want to expose his poverty to the general public.
Residents appreciated the DPO Khyber Dr. Muhammad Iqbal action taken against those who were swallowing poor people's money and demanded of the government to take action against other government departments' employees who were also registered with BISP.