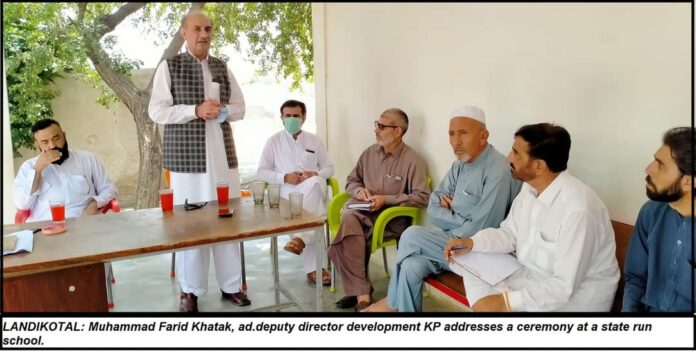 By Ashrafuddin Pirzada
LANDIKOTAL: The Khyber Pakhtunkhwa education department officials visited district Khyber and inspected various state-run schools buildings and met with parents and trachers' counculs,officials said on Sunday.
Khyber Pakhtunkhwa additional deputy director education Muhammad Faridullah Khatak was accompanied by other district education officials visited various schools and conducted parents and teachers councils' gateering at the government primary school Ashkhel in Landikotal.
Speaking on the occasion, Faridullah Khatta said that Khyber Pakhtunkhwa chief minister Mehmood Khan was taking keen interest to rehabilitate and reconstruct the militancy damaged and destroyed state-run schools in newly merged tribal districts.
He said in the years long militancy total 262 schools had been destroyed while 300 other partially damaged in erstwhile Fata distructs.
The official said that all the destroyed schools would be reconstructed while damaged schools would be repaired through the Accelerated Implementation Program (AIP) launched by KP government.
He urged teachers,parents and other stakeholders to own the government schools and work for its betterment so that every child could not be deprived of education.
"If our children receive education and Islamic teachings in schools then we should consider schools as the holy and right places where childern being polished as future leaders", said the official.He urged the teachers to spend the allocated amount on need based construction work at their respectives schools.
The official said according to rules the issued amount could be used to construct latrines,repairwork of schools' boundarywalls,white wash and to ensure availability of drinking water in primary schools. He said parents have also inducted as stakeholder in the issued amount so that the public money could not go waste.
Assistant district education officer Misal Khan Shalmani in his speech thanked the KP government for releasing million rupees for Landikotal schools' rehabilitation. He urged the members of Parents-Teachers Council(PTC) to spend the allocated funds honestly for their respective schools.
Assistant district education officers Khan Azam Afridi and Shandigul also spoke on the occasion.
Erlier, KP government issued Rs35.5 million to parent/teachers councils for the renovation,repairing and other small construction works at all government primary schools in district Khyber.